I had the pleasure of fishing with Travel Writer Sherry Ott of Otts World on Saturday.  Sherry had not fished since she was a kid and wanted to experience what Maine has to offer. The weather could not have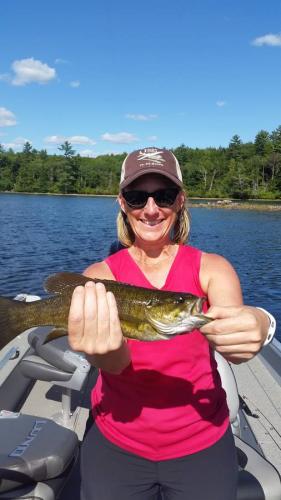 been more cooperative perfect blue skies, a few clouds for effect and not a lot of wind. The fish on the other hand were not nearly as cooperative.
We started on the Saint George for stripers and while there were obviously a few fish around; loudly taking bait from the surface of the water. We could not sell one of them a lure. After lunch we headed to the freshwater where Sherry was successful first with a few small fish and then with a nice smallmouth bass. We did laugh until she cried but I will let her tell that story.
You can see a few of her pictures on Facebook and some of her thoughts. I understand that the full story will be coming later. But once again you all missed a beautiful day on the water!