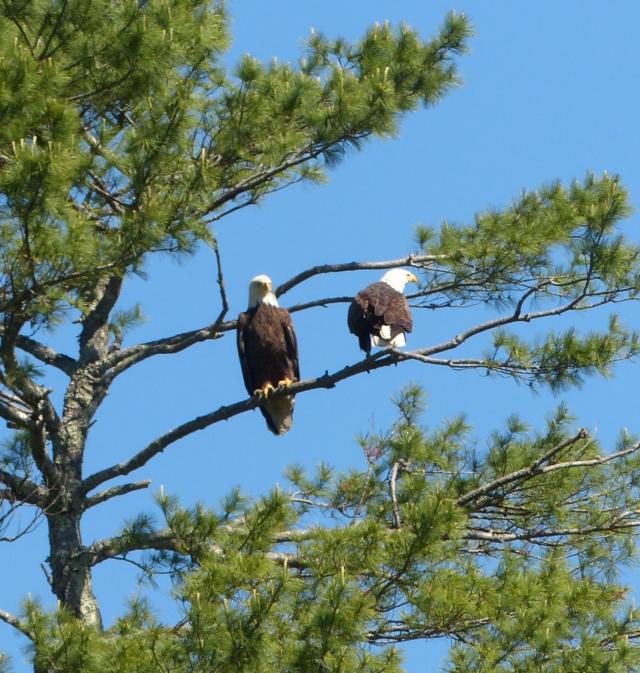 The American Bald Eagle has made an amazing comeback over the last 30 years, going from an endangered species to completely recovered. Even when the population was low Maine always had a significant eagle population and now offers excellent chances to see these magnificent birds year round.
There are opportunities to see eagles nesting in the early spring, watch the young eagles learning to fly and feed themselves mid-summer and they congregate in our area to spend the winter. Whenever you choose to visit Maine Outdoors offers excellent chances to see eagles. Trips may be by boat to the areas around remote eagle nests on our saltwater rivers, by canoe or motorboat on one of our lakes, or by snowshoe to see them congregated in the winter.
A friendly knowledgeable guide will add interest and fun to your trip, while helping you have a safe and enjoyable  experience. Maine Outdoors trips are for your party only and provide an opportunity for you to work directly with your guide.
What's Included
Maine Outdoors will supply all of the equipment that you will need. Lifejackets, paddles, fishing rods, lures, bait, drinks and even rain jackets. We always recommend that you bring along a jacket as even on the nicest days the air can get cool.
Full day trips include a lunch served by your guide in a quiet setting.
Maine fishing licenses are included when required and any sales taxes.