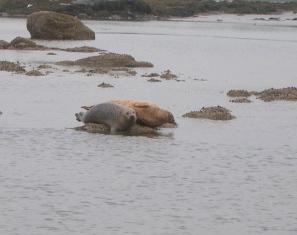 Enjoy nature in all of its glory with a boat ride on the St. George River. This is the perfect excursion for bird watchers and nature lovers, or for someone who can't wait to wet a line no matter where they are. Your trip starts in historic Thomaston Harbor and heads down the St. George River for a three-hour boat ride aboard Don's 20 foot open fishing boat, where you can fish, do some bird watching, or just lay back and take a snooze. The scenery is breathtaking along the river and you will get the chance to see the famous Olsen House or Andrew Wyeth's summer home. There will be excellent chances to see seals, harbor porpoises and eagles on this trip as well.
If you would like we can even spend a few minutes wetting line. Maine Outdoors will supply all the equipment you need; life jackets, fishing rods, lures and even raincoats if needed.  Be sure to bring along a jacket, hat and a smile!  Parties are limited to 4 on this trip
What's Included
Maine Outdoors will supply all of the equipment that you will need. Lifejackets, paddles, fishing rods, lures, bait, drinks and even rain jackets. We always recommend that you bring along a jacket as even on the nicest days the air can get cool.
Full day trips include a lunch served by your guide in a quiet setting.
Maine fishing licenses are included when required and any sales taxes.