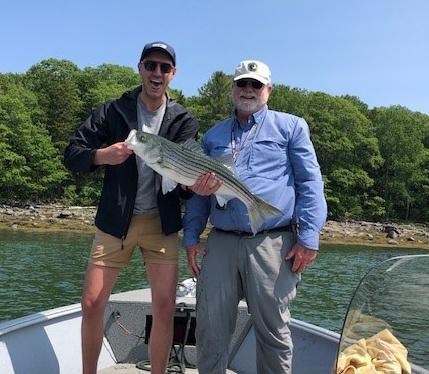 Experience Maine saltwater striper fishing like never before: with a Master Maine Guide and US Coast Guard Licensed Captain who's an expert on the area's geography, wildlife, and history.
You'll learn new striper fishing skills while gaining an appreciation for the history and culture of the region. We'll make the most of your time on this trip whether it is a full-day or a few hours.
Where and When
We'll fish the Saint George River in Thomaston Harbor, then onto the hidden fishing spots that are only known to locals. You'll see the beauty of Maine's rockbound coast painted by the Wyeth family not far from Camden, Rockport, and Rockland.
Striper fishing is best in the early morning or evening when the light is low since this is when the stripers are most active near the surface of the water. Mostly, we'll catch school fish and occasionally find one over five pounds. A Master Maine Guide can show you the specific fly and lures to use to have a better chance of catching one of these coastal beauties.
Don Kleiner, Master Maine Guide
Don's encyclopedic knowledge of Maine's outdoors, wildlife, geography, and culture create an exclusive, guided experience like no other in the state of Maine. You'll have a chance to soak up the pristine outdoors of Maine, creating memories with your family to last a lifetime, with an expert in the field.
Maine Outdoors for the Whole Family
Kids, parents, and grandparents will be at ease on the trip, learning something new while having fun. Don can make accommodations for various learning styles and accessibility needs, so every member of the family can fully experience the Maine outdoors during your private, custom fishing trip.
Whether you're a beginner or an experienced angler who wants to add a new skill in your fishing game, Don's expertise of over thirty years leading trips in Maine will ensure your success with helpful suggestions, knowledge of the area, the wildlife, and the environment.
You'll be at ease in the 20-foot Lund Alaskan with fishing gear, bait, and life jackets provided. If you'd like to use your own gear, bring it along! We're happy to show you around your new equipment.
What's Included
Maine Outdoors will supply everything you'll need for your fishing or nature exploration trip including:
Boat and Guide
Fishing rods, lures, and bait
Drinks
Rain Jackets (if needed)
Fishing licenses
What You'll Need to Bring
Your jacket in case the weather turns cool
Your smile
Your credit card
For full day trips, Don will include lunch at a quiet shoreside setting.
Need more information? Frequentlyasked questions are answered here.
Your unique Maine adventure is a quick click away! Enjoy the Maine outdoors with your family, under the care of a Master Maine Guide.