November 2023
We had a great time on our fishing trip with Don! He was so patient and helpful in teaching us the correct techniques. The whole trip was very enjoyable and it was so exciting when we caught fish. I would highly recommend booking a trip and hope to book again in the future when family visits.
Jamie
We had a fantastic time with Don out on the water fishing for bass and pike! He was extra patient with us being new to fly fishing and helped us to really improve our casts by the end of the trip. He was great company, was energized, and extremely knowledgeable! I can't wait to take friends and family out with him for another trip in the future.
Andy
October 2023
I can not say enough good things about Don! Had an amazing morning fishing! He was so patient with our 4 year old and we all caught our first pike and small mouth! Will definitely be coming to see him again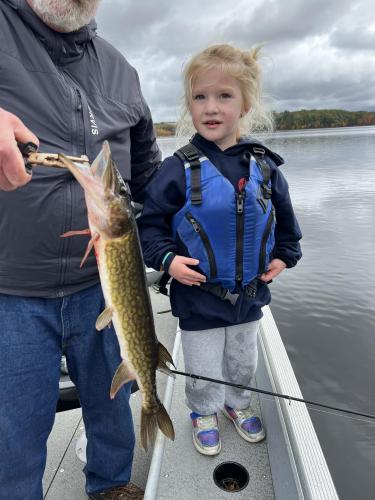 on our next trip to Maine!
Sam
September 2023
Can never thank you enough for the fun days you create for our family. Major life moments!
Already looking forward to next September!!
Hugs,
Lesley
Wow!!!! What an amazing day on Seven Tree Pond with Don. My husband and I both caught several fish (a couple got away). We caught large mouth, perch, pickerel, small mouth and a fiesty pike! It doesn't get better than that. Thanks Don….let's go again tomorrow! :)
Lynn
Our trip was fabulous. Thank you so much for the great time. 
Bob
Don was highly recommended to me and he didn't disappoint. Had a great time catching and releasing large and small mouth bass and pickerel throughout the morning and thoroughly enjoyed the conversation. I would definitely look him up again if ever back in the area.
Doug
August 2023
Don was great and worked hard to find the fish. Great catching Striped bass on light tackle. Looking forward to may next trip with him.
Charles
We had the most wonderful afternoon with Don! Great fishing and instruction, wonderful equipment, and a simply magnificent landscape. Don has something for everyone and within minutes we'd dropped our city selves and reconnected with the great outdoors. When asked what he liked most about his afternoon fishing, our 11 year old said, Don.  We agree and will be back!
Caroline
Don is like family.  He's great with my two grandfishers, twin boys age 9.  I would recommend Don without equivocation to anyone.  The boys have come to expect a trip with Don every summer and look forward to it every year.  It's so important to plant the seeds of the love of fishing with kids nowadays and Don is important to our dedication to that endeavor.
Rick
As always a pleasure to fish with Don.
David
July 2023
Island Boy and I had a terrific experience striper fishing with Don.
Ed
Great with kids. Knows his stuff and is a pleasure!
Lisa
Terrific trip. Lots of fun!
Jack
June 2023
This year's family fishing trip was a highlight of our vacation!  Don never disappoints!  I know that there is no way he can guarantee we all catch something... But he always comes through.  My boys look forward to our fishing trip every year and we will continue to make it part of our summer vacation.  Don is a great teacher, I can see each year how much the boys improve from their time on the boat. Looking forward to returning next summer!
Tara
Successful day even in harsh conditions.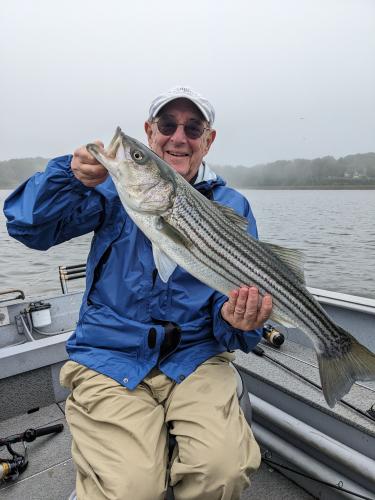 Don never stops trying. Very informative and a great sense of humor!
Hope to fish with Don again.
Theo
We had such a beautiful morning with Don out on the water. We saw a pair of nesting loons, two bald eagles, Canada goslings and ducks. My kids and I caught our first fish! It was so peaceful.  Don was great with the kids even though he was on Team Old Man with my husband rooting him on to catch the most fish. I don't think you could find a better more experienced guide in the state! Highly recommend this experience, it is definitely worth it.
Jen
Don - Thanks for a great morning!  Catch you next time around.
Norb and Diane
May 2023
Maine Outdoors took part in a trip put on by the Maine Office of Tourism for a group of outdoor writers from Pennsylvania that included a day of fishing on Megunticook Lake in Camden. One of the writers described his experience over the entire four days as a part of this podcast. Listen to his story at this link. The Maine Outdoors segment starts at 5:50.
Could not be happier. I took a friend who had suffered a stroke and as a result had limited mobility as well as some minor cognitive impairment . Don Kleiner was fantastic. My friend enjoyed it so much we added another trip.
Scott
April 2023
This is was my second trip with Don and while the weather was a typical Maine spring day (cold and wet), Don knew exactly where to go.  We had a great day on the water catching bass and trout that I am sure other guides or locals would never have been able to. 
Don is the ultimate memory maker!  I cannot wait for the next trip.
Michael
November 2022
Thank you so much Don for the relaxing and enjoyable time fly fishing.  This was a high point of our vacation to Maine. We will certainly recommend your services to others and we may see you again in the future. 
Scott
October 2022
Don is the best! His expertise and genuine interest to meet everyone in our party where they're at was outstanding! Don has a great ability to ensure fun and fish catch'in for everyone! He provided the ultimate Maine pond fishing experience! Thanks Don for a blast!
Dave
Our group had a great time. Don was extremely helpful and made the day successful for even the inexperienced members our group. We would definitely recommend Maine Outdoors and would use Don again if we are in the area..
Martin
September 2022
Don is a perfect captain / teacher of fishing.  My wife and I had never fly fished and after a day on the lake we are "hooked".  Don's experience was evident, but his ability to connect with multiple skill sets, and improve them all made the difference.  We strongly recommend utilizing Don and Maine Outdoors no matter your experience … you will be a better fisher person at the end of the day, and the bonus of a new friend in Don!
Shand & Lisa
Don showed us a great time on a local freshwater lake.  He was knowledgeable, courteous, humorous, friendly and patient.  I'd book with him again without hesitation.
Norb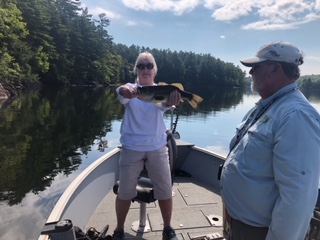 Our fishing trip with  Maine Outdoors was the highlight of our 10 day visit to Maine.  It was our first trip to Maine and when we come back it will be to go fishing again with Don Kleiner!  We had such a fun time.  Don is truly a Master Guide, patience, knowledgable, great sense of humor and he made our trip a special one.  I have been wanting to go bass fishing with a guide for years and could not have been happier or more pleased with our choice of Maine Outdoors.
Robynn and Steve 
Don—we really enjoyed the trip, thanks.  Both Warren and I enjoyed your company and it was great to obtain some of your knowledge!
Sean
August 2022
My husband and I have fished for years.  He has done guides before but this was my first one.  Very, very impressed with the whole experience.  I would highly recommend this company.
Candy
July 2022
Don was waiting for us when we joined him on the St. George River shore in Thomaston for a morning of striper fishing. His instruction was brief and helpful once we were on the water and everyone caught fish. Don also shared information about the river and the whole ecosystem. A great day on the water!
David
My wife Beth and I had a wonderful experience fishing with Don. He is a vast reservoir of knowledge, a great teacher and just a fun, nice guy. We had zero fly fishing experience, but were remarkably able to cast decently and catch 6 fish in less than three hours. The reservation process was easy, he got us a license in 5 minutes, the pond where we fished was spectacular, and Don's boat and equipment were top notch. He even put a cooler on the ground so that we could step into the boat without getting wet! Please book a tour, we are hooked!
Mark
Wonderful trip! Don was so nice and fun to fish with! I really enjoyed myself on my fishing trip! Thank you so much!!! 
Emily
Another fantastic trip!  This was our family's second annual fishing trip with Maine Outdoors, and it did not disappoint.  Don is a truly experienced guide and made this trip absolutely live up to our expectations.  It is obvious how much he enjoys fishing and sharing that experience with clients.  This was definitely a highlight of our vacation. We absolutely plan to book another trip in the future. I would recommend Maine Outdoors to anyone!
Tara
June 2022
By the way, it was the best guided trip we have ever had.
Mark
A great day on the water learning to fly fish with Don! Very patient and effective teacher with a great sense of humor. Thank you! 
Amy
September 2021
Yesterday we fished with Don for the fourth time in as many years. We are a family of two parents and two boys (11 and 12), and Don has been able to meet us at just the right developmental spot each trip. He is patient, funny, and an expert guide who knows tons of great fishing spots. We learn so much every trip-- improving our casting and our intuition of where to find fish. His support and enthusiasm keeps spurring on our love of fishing through each year, until we meet again the following summer!
Lesley
My family and I had a great time out on the water with Don. He was kind, professional, knowledgeable and had a great sense of humor. He was dedicated to making the trip about us and our interests from the beginning. It was important to us that we saw Eagles and we certainly did! We also got to see Ospreys diving and catching fish as well as a bunch of seals. It was a lovely day and Don knew exactly where to take us to have a great experience. Thank you!
Melanie
We are packing to leave Maine tomorrow morning but before going Ellen and I wanted to tell you how much we enjoyed fishing with you this past Wednesday. Ellen opines that it was one of the highlights of our two weeks here in Maine.
Will
August 2021
Hello, Don!  You are an outdoor rock star.
We had so much fun learning to fish with you. And our very first trip being on our beloved Alford Lake - thank you!
Gabriella and I are still talking about it tonight, smiles wide - what a hoot!
We look forward to going out fishing with you again for sure. We learned so much (I can still hear your directions in my head). Thank you for helping make our adventure come to life!
B
Great day on the water with Don. Such a wonderful guide. So helpful. We tried to find the fish but the tide got us. Did catch a few early on but it wasn't for a lack of trying. Highly recommend!
David
My family and I had a great time with Don on the water this morning making memories…highly recommend!
Susan
Had a blast today with my 14 yr old son on the water with Don K!  Exactly the experience we were looking for. 1st time Striper fishing, caught & landed biggest fish we have caught.  Don knew right where to go and made us feel very comfortable. Would definitely recommend and do again!
Matt
Had a beautiful day w/ lots of wildlife. Maybe was too sunny to stir the stripers well, but learned a lot and Don kept it interesting. He definitely knows his stuff and his turf
Jeff
Don of Maine Outdoors is as kind and engaging as he is smart and skilled.  He is the consummate educator with his positive reinforcement and hands-on instruction.  I recommend him for anglers of all ages, backgrounds, experience.  To hear Don laugh, chuckle is a true joy...as is catching fish that he finds for you!
Kevin
July 2021
Before I started to write my review, I quickly read the others reviews and everyone seemed to sum up the same experience - it was great.  Without a doubt you will have a wonderful experience no matter which journey you pick from Don.  But after having experienced my first trip with Don today, I realized that while the trip was terrific and a great time the most important thing I took away from the trip was having the pleasure to know Don.  I wanted to have a fishing trip while on vacation with my family where I could make one more memory before my oldest daughter went off to college and because of Don and his personality, he helped me make that memory. 
With the chaos going on around us all, it is a joy to have someone like Don around to help you forget everything and simply enjoy the moment and life.
Michael B
Don is FANTASTIC!  This was the highlight of our family vacation for sure. We caught so many fish we lost track and there was never a dull moment!  I will absolutely reach out for future reservations during our vacation.  
Tara
Great experience! Don was very knowledgeable and friendly. We only booked a half day trip but we would definitely book a full day on a future visit. Highly recommend Don and Maine Outdoors!
Greg
June 2021
A great first family fishing afternoon on a perfect day. Thanks Don!
Brian
We had a great time fishing with Don.  He was wonderful to talk to and the scenery was fantastic! Will definitely schedule again the next time we are in Maine.
Barry
May 2021
We enjoyed every minute with Don as we tooled around Megunticook Lake and fished. Don was eager for us to catch fish, and any time the area wasn't productive, he'd take us to another. We caught more than a dozen large and small mouth bass, and one pike. Don's sense of humor, knowledge of Maine fish and lakes, and his willingness to give us a great time couldn't be beat. He changed our lures, retrieved lures stuck in trees, and taught us tricks. We highly recommend a few hours with Don.
Don and Ruth
April 2021
My family and I went on a great fishing trip with Don. He was knowledgeable, friendly, great with the kids and helped us get some nice fish. I would definitely recommend booking with Maine Outdoors!
Andrea
My wife and I had an excellent time fishing! We caught our limit and then some to release!
Thank you Don!
Maria Elena and Dean.
November 2020
Don took my two teenage sons and me out on a pre-Thanksgiving fishing trip.  He helped us decide upon the right spot based on the time of year and what we were interested in catching.  It happened to be cold and snowing when we went out, but he made sure we had a good time AND we all caught fish.  I will definitely be contacting Don when the weather turns.
Tyler
September 2020
My family and I went on a vacation in Port Clyde, Maine when we decided to go on a fishing trip.  When we were looking for a fishing tour, this trip immediately caught our eye and we decided to book it.  When we arrived in the morning, it was almost freezing but we were hopeful that we would catch some fish.  When Don first rode us out, it was very scenic with the steam of the water making the whole lake look like a sauna.  Then we started fishing and all of us were a little shaky at first because only our son knew how to fish, but once we got the hang of it, the whole family started catching fish! Don also showed us amazing views along with a bald eagle and loons being seen.  The whole family had a fantastic time. Don was a perfect guide and taught us how to fish with no experience on our part.  This was one of my family's favorite parts of our vacation and we will definitely be coming back next year.  10 out of 10 stars!!!! Thank you, Don!
Andrew
My two boys (10 and 7) and I had a fantastic time with Don. He put us on some nice stripers from the start - he really knows the St George like the back of his had. Don is very patient with novice fishermen and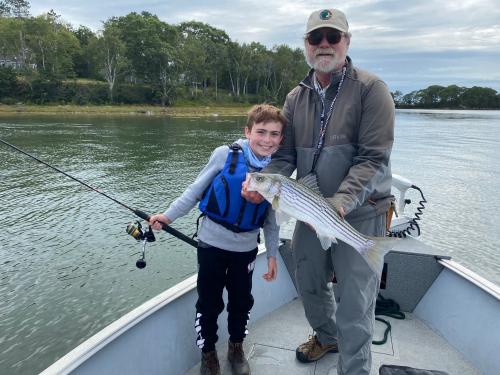 wonderful company.  Great boat and equipment cap it all off. We will be back!
Eric
August 2020
Whether you are trying to catch a Striper or just enjoy a cruise on the water Don Kleiner makes it a fantastic time.  My family enjoyed going out with Don a few times this summer.  Each time everyone caught something.  Don has an infinite amount of experience and knowledge that he is happy to share.  We highly recommend an afternoon or full day with Maine Outdoors.
Maria
Don has a great demeanor with children. We had a 8 and 5 year old and they had a great time as did their father and grandfather. Caught several fish and lost a couple.
Ed
Don was a wonderful and patient guide. Myself, husband and 14 year old son throughly enjoyed our afternoon fishing with him.  It was a highlight of our Maine vacation.
Caroline
Third year in a row with Don and Maine Outdoors.  Great day of freshwater fishing.  My youngest son told me in the car on the way back to Massachusetts - "I wish we could stay another week to fish with Don again."
John
July 2020
We had another fun afternoon with Don on the St.Georges River...Don is truly a fishing master and insures everyone has a great time 
Dick
Not only is the fishing fun, but Don is a comedy show by himself. He is such a funny and personable man. He wants everyone to catch a fish and doesn't let anyone give up. I have done it twice now and the rest of the family is signing up as well. 100% recommend even on a rainy day. Thank you Don for such an amazing experience. 
Marley
June 2020
We had a fabulous morning of fishing with Don Kleiner. Don knows the St. George River like the back of his hand.  He had me "hooked" when we saw 4 river otter exploring a mud flat barely out of the harbor - a rare find indeed. Don is very knowledgeable and professional, a great story teller and guide, and he repeatedly put us on to fish. Our hands never got dirty and our feet never got wet! Don took great care of us, and we will definitely book a trip with him again!
Sandy
We had a great day out on the St. George River with Don. He gave very clear instructions and we were fishing like pros in no time. I have never caught more fish in one day before. Don made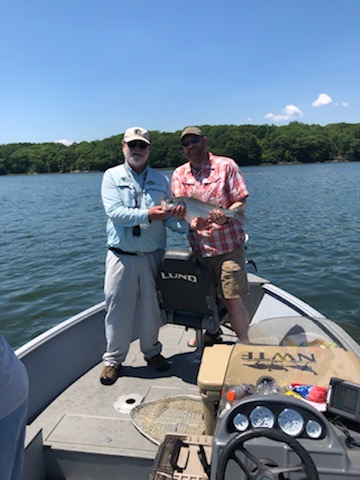 everything easy--he already had all the gear, the licenses, and even lunch. I just had to show up.
Thanks again Don!
Charles
August 2019
Can't tell you how much I appreciate you and all you did for me and my family this week. 
We had experiences for a lifetime. You are such a thoughtful, caring, patient, and hardworking man.
You brought us to the outdoors like it was your first time. Your deft handling of the boat today was amazing-- and saving the folks who were lost.
My friend I am grateful we met and thankful for your professionalism and good humor.
Thank-you
Daniel
We booked a half day family trip with Don and it was a fantastic fishing experience. All four of us learned a lot about lures and fishing techniques, and put it to use right away-- catching fish! Don has a great sense of humor and we all felt relaxed while we were together. We will certainly book another trip next summer!
Lesley 
July 2019
What a great day. Don was very patient with our family of 3 - taking time to help each on of us - especially my 13 year old. We loved seeing the Wyeth and Olsen house - an unexpected pleasant surprise. We also saw seals, eagles, porpoises and blue herons, a lighthouse, and watched the lobster boats hauling in their catch. Not to mention being able to take some great photos of breathtaking scenery. It was a highlight of our trip to Maine.
Lynne
Don is a terrific captain, very helpful with casting, lines, landing the fish and answering all our dumb questions. He knows the St. George River like the back of his hand. But more important he is a pleasure to be around, funny, engaging with kids of all ages...We have fished with Don the last two summers and will book him again in '20....   
Dick
June 2019
Our time with Don could not have been better! He had us on fish all morning and we had a blast catching the striped bass. Don was amazing with with my 7 year old. He was patient, helpful, and knew just when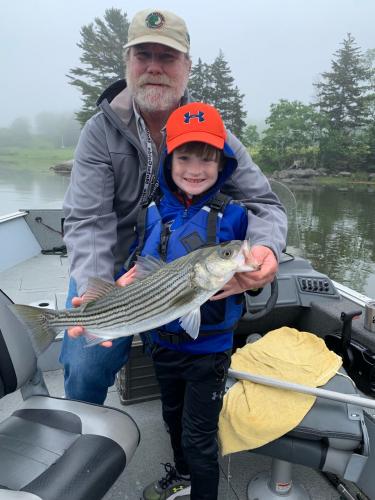 to step in to help. He answered all of our questions and was just a pleasure to be around. I can't recommend him enough!
John
We had a great time. Caught lots of fish.  Captain Kleiner has well maintained equipment and knows how to catch stripers better than anyone else. He was also very patient with this novice striper fisherman.
Dan
A terrific trip.  We were on stripers from the start.  Don was a wonderful source of information.  My son and I can not wait for the next trip.
Jeff
Don is an amazing guide. We went striper bass fishing with the entire family ages 5 to 50 and of all skill levels.  He was great with each person, handing out tips and advice and moving us all over the river to catch the big one.  Don is funny, insightful and full of great information.  I would recommend Don and Maine Outdoors any day of the week. We are looking forward to our next guided trip with Don!
Sherry
My first trip to Maine was an outstanding vacation. On June 10, 2019, I booked a day of fishing for the entire family of seven which included three grand children. I was fortunate enough in my opinion to find perhaps the best fishing guide in Maine. Don Kleiner and his friend Todd treated us to a day of great salt water fishing. We caught 18 striped bass, everyone caught fish. To top it off, he provided a fantastic mid-day lunch. Thanks to his thoughtfulness and careful planning, we will forever have memories of experiencing the Maine outdoors
Jerry
My husband and I had the best time learning how to fly fish with Don today. Don has a great personality and patience to go along with his knowledge.  I would definitely recommend him as a guide.
Kristine
September 2018
My sister and I spent a wonderful 3 days in the water with Don over Labor Day weekend 2018. It is our second year of fishing with him in a row. Don takes such good care of his clients and really goes out of his way to make sure that they have the perfect experience. He is a great teacher and he really knows his stuff! He is easy to spend a day (or 3) with. We love fishing with Don and will continue to come back as long as he will have us.
Tara
My family of four - me, wife and two kids (ages 11 and 12) went out on a fresh water lake with Don. I can't explain how patient Don was with the kids (and my wife and I). Sure, Don is an expert fisherman - I bet there are many of those around - but, I seriously doubt there are any as comfortable, happy and yes - patient - as Don. In short, our older son was having trouble catching a fish, while our younger son was catching huge fish and getting a ton of bites. My wife and I were also catching fish. My older son was following instructions for the most part, but just wasn't getting any bites. Our trip time was up, but Don kept going to different spots and finally our older son caught a fish. Don was not annoyed - he was so good with us and the kids. And, yes - he is an expert that knows every turn and hole in the Maine area. I can't recommend this experience enough.
Greg
There are some things I look at when I go out with a guide.  #1 Does he know his stuff, will he put you in a position to catch fish.  I realize he can't get the fish to bite but is he switching things up and always looking for the spot that produces.  #2 Local knowledge, does he share things other than fishing about the area you are fishing. Giving you a feeling of where you are at locally. #3 Is he fun...don't think I have to elaborate on this.
Don is all of the above.  He kept on working hard and trying new spots when the bite wasn't going on.  Always had a sense of humor as he told stories of Maine.  Boat was clean, gear was in great condition.  His number is now in my phone for next time I go to Maine.
Marc
Had a great time with Don fishing the Thomaston area.   My boys had a blast.   We all caught stripers.   Great weather and great guide.  Will definitely do it again when we're in Maine. 
Dan
This was one of the highlights of our trip to Camden, Don was incredible! Extremely friendly with children and full of patience and good energy.
He took us to a bunch of different spots and didn't care to move if the fishing was not productive.
He even took us to see an eagle's nest so the children could admire it!
I would recommend him as the best fishing guide in Camden!!!!!
Annie
We had a great afternoon fishing for stripers on the beautiful St. George River! Captain Don was a great guide and host! We caught (and released) stripers in several different locations. We all really enjoyed the experience  and we look forward to our next fishing expedition with Captain Don!
Matt
'We had fabulous time on our fishing trip!  Don is very knowledgeable & will do everything in his power to ensure he puts you on fish! We caught lots of Striper & thoroughly enjoyed ourselves!  Thank you Don!
Jess & Chris Alabama Honeymooners ;)
My brother-in-law and I spent an afternoon on the St. Georges with Don on Monday July 2 and I can't say enough about how enjoyable the experience was.  The trip was made even better by our good fortune of a beautiful day with light breezes.  While our day started out a bit slow with the fish somewhat uncooperative, Don worked it hard and we ultimately boated six stripers and had several other bumps and flashes.  Don gave us just the right amount of coaching, and didn't hesitate to change up our bait or location if things seemed slow.  He has a great knowledge of the waters and how and when to fish each spot.  It was a pleasure fishing with him and I look forward to doing it again soon.
Rennie
Spent the morning of 6/21 with Don and my family fishing from his boat. I was nervous but with Don's enthusiastic energy and patience we all had an amazing fun time!! Thank you Don! Loved the experience!
Lisa & Nick
Don took our family on a beautiful pond in Union and we had a great afternoon of fishing.  He taught my boys a lot about fishing - many things that I never knew of.  We are looking forward to going out with him next year - maybe to do some ocean fishing for some stripers...
Thank you Don!
John, Michelle, Antonio & Lex
We have been fishing with Don for a number of years and wouldn't miss a trip with him when we are in Maine.  It is great hearing Don's stories and you never know what new technique or new lure you will learn to use.  Many have come in handy for success on our own fishing trips.
Steve and Denise May 2018
Today was an exceptional day and everyone caught a fish!!!   Don was patient and helpful and made sure everyone on the boat was having a good time.  Already thinking about our next fishing trip.   Don was very knowledgeable and shared many interesting facts and we even saw a loon!
Yvette May 2018
Don is the man. We covered lots of water quickly, and he figured out a pattern in no time. Lunch was served on a picturesque picnic table right on the water. He provides everything you need, all you gotta do is catch fish. Will L May 2018
Don K is a great guide an although I did not make it up to Maine this season, But in the past seasons of fly fishing with him have been rewarding. A.J.
Don - Thanks for the great time on the water today!  I am buying a boat and moving to ME!!…….not really.  I will visit more often.  I love it.
Ward
Don walks the walk...worked hard to make sure he put me where the fish were and then it was up to me to turn fishing into catching....and I was able to end the day with a smile on my face and a promise to hook up with Don when I return to Maine.
Rich
Don Kleiner is a wonderful guide. We had a wonderful day fly fishing with him today. Highly recommend a trip with him!
Steve
Had a great day fishing with Don. He is always a pleasure to be with whether you are hunting or fishing. Thanks Don!
Warren
Always enjoy a day on the lake catching fish with Don!!!
Neal
A perfect day.
Ralf
Don: that was an absolute delight yesterday. We look forward to our next trip to St George!
Don
We had a beautiful morning on the St. George river, caught fish, and had a great experience with Don. Thanks!
Josh
This was my third trip but the first for my friend of 44 years. We have both been fishing and hunting guides where we grew up and can't compare to Don. As usual the trip was as much fun talking and joking with Don as catching Large and Small mouth bass on the lake. When we got back to the landing our wives were there and he offered to take us all back out to see the Loon chicks that had just hatched out which was a real joy for us all.
Thanks Don, see you on our next trip. Danny
It was such a pleasure to enjoy a half day of striper fishing with Don! Catching fish is part of the experience and we caught lots, but the personality of the guide is even more important. Don get's a A+ on both accounts. Great time!!
Ray & Kristin
Don's jovial and patient guidance made for an excellent fishing trip. His advice and knowledge helped these novices catch several fish. It was a thoroughly pleasant day. Thanks for everything Don!
The McNeils
One of the most enjoyable 3 days of fishing I have experienced. I have fished with guides in many parts of the U.S., including Alaska and Hawaii, and I think Don provided an experience as good, or better, than any other I have had over the last 20 years. The highest compliment I can give is that we booked again for next year as soon as this years trip was completed.
Joe
Don convinced my 12 year old nephew to go for a ride on the boat and told he'd take him back if he got bored. 3 hours later my nephew had out fished me and had a great time! Thanks for the awesome afternoon and the excellent fishing. Hope to return next year.
Scott
We've now gone on 3 fishing trips with Don.  He is a wonderful teacher to my 6 and 4 year olds showing them how to fish but also the fun of it.  He's also great with the adults.  We'll be back next summer for more adventures.
Walter
Thanks so much for the fishing experience and tour of Lake Megunticook.  My wife and two boys and I had a fantastic time catching 30 fish between the four of us.  Your great stories and personality were icing on the cake!
Ken
Mr. Don, I can't express in words the appreciation I have for you and your memory making ability. My son Tanner has told everyone about the fantastic time he had catching and releasing all those perch. My hat is off to you Don for making a father's time with his a most memorable experience.
David
My newly named husband and I went up to Maine for our honeymoon, and fell in love with the state. We had two days with Don that were absolutely spectacular. I have never met someone with so much joy and charisma--you can really tell that Don loves what he does. I felt like I was with a good friend or family uncle the entire time of our trip. Don made us so comfortable and catered to what we wanted to see, do and enjoy. We are planning to come back up next year, and will definitely come back for another guided tour. It made our Maine experience that much more wonderful! Thank you, Don!!
"Don was a great guide. Made it a lot of fun. Back next year" Mike
"Don was incredible! Great teacher. We had a wonderful time. Would recommend a fishing trip with Don to anyone! Thank you Don!" Wally
My very first time fly fishing.  We had a blast.  Don was an excellent teacher.  Provided everything we needed.... especially the fish.
I only have one complaint.... I will now always want to go fishing with a guide like Don.  What a difference it makes getting to where the fish are and having someone show you the ropes on how to catch them.  I am now spoiled...
Kinda like if you have never flown first class, you don't know what you're missing.... Well now I have flown first class.
Mike B.
Thanks so much for a great day!  The kids truly had a blast and wanted to go again today.  
Hopefully next year.  Bill
 
Thank you, Master Maine Guide Don, for the wonderful fishing adventure you provided for my granddaughter, Catherine.  She enjoyed all the attention you gave her and really appreciated your showing her all the wildlife,  She liked the red fox the best!  My son and I both were pleased as to how good you got her to cast.  Many, many thanks for this special Maine outing.
Ron, John and Catherine
I've been fishing with Don a few times but this time it was 3 generations. My father, myself and my daughter scheduled a trip.The smallmouth were biting and we had a blast. My daughter was the queen of the day. It was all about her and Don in his normal fashion made it all possible.
He catered to her every need from food to the restroom.  He had my 11-year old casting and retrieving like a pro. Who cared if the fish weren't biting?Don educated  her all the wildlife, water and the sights. Don is great with all generations and we highly recommend him for you.
John
Went fishing on the lake with my husband , my 7 yr old son and Don. He took care of my son and my husband and I were able to fish and enjoy the beauty of Maine while our son was fishing and having an awesome time as well. Don is such an awesome guide. Our next trip to Maine, will defiantly include booking another trip with Don!! Highly recommended. Thanks for the great fishing trip!!
Jeff & Jennifer
My boys and I went fishing on Lake Megunticook w/ Don.  He is awesome and the morning we spent was perfect.  Don is particularly patient with beginners and my boys loved him.  What a great day!  Thanks Don for an unforgettable experience.  We will be back!
Scott, Cam and Brody
Don was a real pro...lots of positive conversation and even more fish! The shore lunch and sights were fabulous.
Many thanks!
Hank
We recently went on a canoeing trip with Don.  It was a reunion of sorts in that we had taken a trip with him nearly 18 years ago.
He was as wonderful and enthusiastic as we had remembered.  There were 8 in our party and we watched eagles and the beautiful Maine landscape on a peaceful morning.  It was a great trip!
Beth
We spent a day with Don and had a blast!  We caught plenty of bass and enjoyed the experience Don had to share with my wife and myself.  I think my wife's fly casting improved through Don's guidance and she caught the biggest bass of the day.  Anyway, from start to finish, the day was tons of fun.
Sam
Once again our fishing trip with Don was one of the highlights of our trip.  He is the ultimate guide and a pleasure to be with.  Our fishing time was over in a flash!  See you the next time we're in town.
Dianne
What a great time we all had with you. Thanks for being so great with my grandkids; they will never forget fishing with you and that goes for me too. Thanks Poppie
Don,
Harvey and I had the great time that I am getting used to having with you. It
was a good way for me to get to know my new son-in-law. Thank you for the
picture of me with that good bass. I'm having fun showing it around to my
friends. Hope to see you again next year.
         Frank
First Time in Maine
With friends Chris and Carol, my wife Jackie, and I wanted to explore the
natural world of Maine and chose a trip with Don based on his huge knowledge
and experience of the area. This being our first visit to New England.
We were not disappointed, and spent a glorious morning exploring Seven Tree
Pond and the river learning about the various habitats and nature.
(If anyone fishes out a pair of spectacles from the bottom of the pond their
mine!)
Thanks Don
Peter
My wife and I really enjoyed our boat ride / fishing trip with Don. I caught several bass and we both saw some great scenery.  My wife doesn't fish, but was very glad she went out on the water with us.  Don is a very entertaining person and knows the Megunticook like the back of his hand.
If you are in the Camden area, or close to it, call Don for a memorable day on the water.
David N
A morning of fishing with Don for bass in Camden Maine just can't be beat.
Don is professional, knowledgeable, and friendly- and was able to help my 70 year old mother catch the fish of the day! She is still talking about how much fun she had that morning.
Thanks Don!
Steve B
Fishing Trip Review
My two sons and I had the pleasure of finding Don on the Internet and what a great pleasure it was to spend the morning with him. The fish I think took the day off but the time I got to spend with my Sons was priceless. Don made our fishing trip an experience of a lifetime, we saw seals, three families of porpoises and got to know Don as a person and now consider him a good friend.
We will definitely being seeing Don in the near future. Don was a wealth of local lore and we enjoyed every minute of our conversation. If you  want a memorable boat ride then I would recommend visiting www.maineoutdoors.biz and make your own family memories.
Sincerely,
David, Josh and Tanner
Fishing Trip Review
Had a great morning of fishing with Don on the St George river. He was right on time for an early start, and worked to put us in the best spots to catch fish. I am a relatively experience fly fisherman, and Don provided tips when needed while leaving me free to fish in the right spots.
He was a real pleasure to share a morning with and we did some great sightseeing as well as fishing.
Keith M
Family Fishing Trip Review
Don picked up my two sons and myself at the B&B he suggested, the Inns at Blackberry Common in Camden, ME. He was spot on with this, we had a beautiful room and amazing breakfasts there!
Don is one of the special people you meet whom has a love for what he does. He is an experienced guide and fisherman and represents the best of what the State of Maine has to offer. He made our trip so enjoyable from the great fishing techniques he showed my sons to gorgeous views and incredible fishing. I was most impressed with his patience he had with my 12 and 14 year old boys. They really didn't have much experience with freshwater fishing and his coaching insured they both caught a lot of fish and a great time! We will be back again!
From an Early June Eagle Watching Trip
Hi Don,
We want to thank you again for the great experience on the eagle watch on Wednesday.  Linda and I had a wonderful time seeing all of the eagles and the babies.  You were very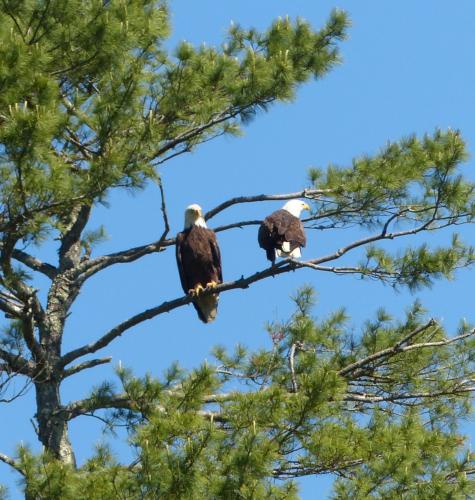 knowledgeable and great at finding the eagles and other wildlife.  It was so enjoyable that we will be doing it again.  I have already referred an eagle lover friend to you to do your eagle watch tour.
If you send me your email, I will send you some photos.  Thanks again!  Linda
From a Fly Fishing Client on the Orvis site
---
From Trip Advisor
To get the most out of our 7 days in Camden we hired a Master Maine Guide called Don Kleiner (maineoutdoors.biz) and I cannot recommend this man highly enough as he gave us 2 days of absolute Maine perfection.
We were picked up at Abigails by Don who greeted us as if we were old friends for our first trip which was a half days fishing on Megunticook lake. We had only just pushed away from shore when Don spotted an osprey which was an amazing start for us but it just got better and better with eagles, loons, woodpeckers and even deer but to name a few...plus we caught a fair few bass and pike. Its amazing how he sees something then tells you where to cast to and a fish is on...though it wouldn't have bothered us if we didn't catch as the sound of a woodpecker hammering away on an incredibly beautiful silent lake was worth the trip alone.
Our second trip was a full day where we gave Don the opportunity to create his own itinerary and he duly obliged with a stunning tour of the spectacular Acadia National Park...Thanks Mr Kleiner for the memories and I hope we meet again
---
Also from Trip Advisor
Spent the first 7 days of September at Camden in 2009 and the weather was fantastic every day. Well into the 70 degrees, light winds and no fog
It could have rained every day and we would still have enjoyed every minute of this wonderful part of the world
Abigails Inn, Acadia National park and a day out with Don Kleiner at Maine outdoors (oops a blatant plug there..sorry)
david
---
From Happy Clients
Don,
Of all the guides I have had on trips in my life, and there have been many, you are the best!
Ernie B.
Don,
Thank you again for such a wonderful paddling experience. It is one we won't soon forget and will most certainly turn us into regular paddlers once we get to Oregon. We hope you have a successful season. You are a most enjoyable guide. Sincerely, Ron & BarbDon, Thank you again for such a wonderful paddling experience. It is one we won't soon forget and will most certainly turn us into regular paddlers once we get to Oregon. We hope you have a successful season. You are a most enjoyable guide.
Sincerely, Ron & Barb