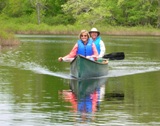 All of our Nature Exploration trips are designed to get you outdoors with a knowledgeable guide who will supply the information, equipment and support you need to have a great time and learn something new about the natural world! Some trips are designed to teach a new skill and others are intended to simply allow you and your family to enjoy the outdoors in some of the most beautiful scenery in Maine with learning as an added benefit. Maine Outdoors provides all of the equipment that you need to have a thoroughly enjoyable and safe experience.
Maine Outdoors offers these trips for you to explore our part of the world:
"Don, Thank you again for such a wonderful paddling experience. It is one we won't soon forget and will most certainly turn us into regular paddlers once we get to Oregon. We hope you have a successful season. You are a most enjoyable guide. Sincerely, Ron & Barb"
An article written by Don Kleiner about a morning nature exploration canoe trip for the 2007 Discovery Coast Magazine.