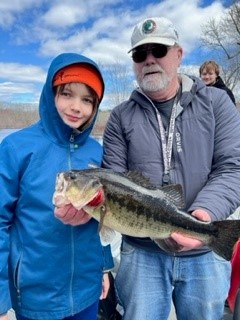 This month was almost summer for a week or so. We are now back to normal, chilly and damp with a few warm days mixed in. I've spent more time on the water than most years fishing with clients using spin and fly gear.
Bass have been a little more cooperative than most years years and the pre spawn fish are their heaviest weights of the year. My takeaway observation is that they are holding deeper than you would expect still but that will change with each warming day. The other thing that is always interesting to me is that on any day the catch is mostly largemouth or smallmouth. Often fishing in the same places on consecutive days. I have no idea why this is the case but it is interesting.
The real bonus this spring is that there seem to be trout everywhere. They are taking large streamer flies and bass plugs. One day on Megunticook Lake we had brook trout, brown trout and a rainbow all in a few hours. A trifecta and two of the three on the next day.
Mix in a few crappies a pickerel or two and the variety adds to the fun. Makes it interesting when you never know what Is on the end of the line.
The weather will continue to warm over the next few weeks and things will only get better, not to mention we are about a month away from the arrival of stripers in the saltwater. I'm looking forward to every day!