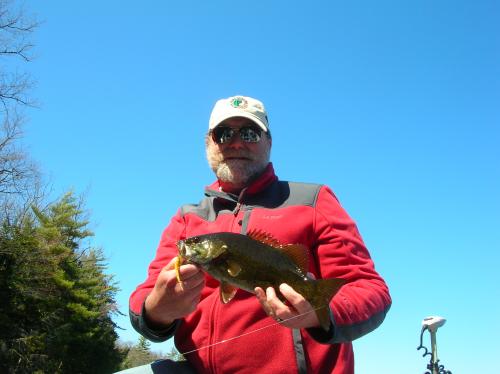 After a wet cold spring the week is the perfect antidote. Warm and sunny with tulips and dandelions in full bloom. The leaves are quickly filling out and it is already hard to see any distance into the woods. My work at the Maine Legislature on be behalf of the Maine Professional Guides Association is nearly complete for another year. Time to get back on the water.
Argy and I launched the boat on Megunticook Lake in Camden this morning to take advantage of the perfect weather; a few clouds, warm and sunny, to see if the bass had started to move into shallow water.  The surface water temperature had risen ten degrees Fahrenheit since my last visit ten days ago. Fish are in fact starting to head for the shallows. In a couple of hours I caught two smallmouth bass and four largemouth almost all on flies and all right around two pounds.
From here on out it only gets better and the switch to guiding every day will be a most welcome change! Won't you join me?