I have noticed several newspaper articles that include being a Registered Maine Guide on someone's list of qualifications. This is especially true of various environmental issues. Interesting I think that a state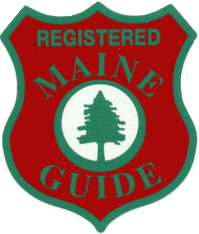 license that allows you to run a small business that help peoples experience the outdoors of our state makes you also an authority on a variety of policy issues. But rarely on the small business issues that make being a guide so difficult like lack of good internet in rural Maine or how difficult capital is to get for a guide.
Over the last few years maintaining a Maine Guide's license has come to include a criminal background check and many have complained about the new requirement. I am guessing that I have spoken to maybe 50 of these folks. Most begin the conversation with some disclaimer that they do not actually guide or only guide family and friends for no pay.
It has made me wonder; are there licensed electricians who never run wire? Plumbers who don't do plumbing or even doctors who never see patients. Interesting to me that while going to the trouble of getting a license to run a small business they have chosen not to pursue it beyond having the license. Which is fine I suppose and normal enough. Then why do we consider them some sort of expert on another topic? I love being considered an expert in what I do but am not sure that my opinions on unrelated topics are more valid than anyone else's even if I am a working guide.