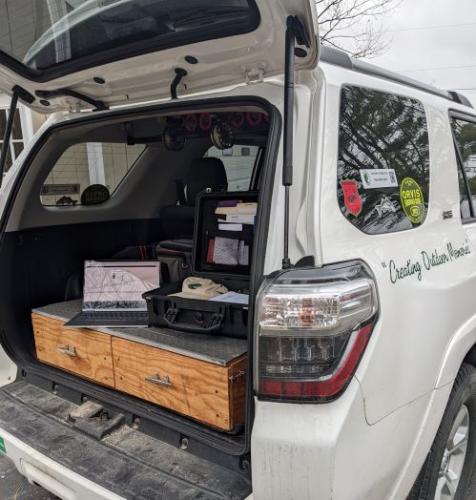 You may have read this spring that I was taking on a new adventure by issuing clients fishing licenses electronically. Including licenses in my trips accomplishes two goals for Maine Outdoors. First is making it easy to go on a trip by eliminating the need to get a license beforehand. Second is making certain that the funding stream for resource management is as robust as possible by ensuring that every Maine Outdoors client helps.
Licenses have been included as part of the trip for many years and were available to purchase for a few years before that. Long ago it was a show box full of the various paper licenses that needed to eb tracked carefully and the unsold licenses returned to the state at the end of the year. When I was at the Maine Department of Inland Fisheries and Wildlife the electronic licensing system was developed and online sales became not only possible but soon encouraged.
Paper license agents like Maine Outdoors have been encouraged to go electronic for some time and I resisted until this spring. I've been electronic for a couple of months now and here are my observations. The system works very well with only a few glitches and has been relatively simple to learn. I have issued licenses from the back of my truck and on the boat using a small Chromebook and a hotspot connection on my cell phone. For the most part it works with a couple of notable exceptions; first it rains making using any kind of electronic device on the boat impossible and a challenge even in the truck because everything including my fingers is wet. Second is the spotty nature of cell service in Maine, which I would say is much worse this year.
I have launches where there is simply no service (nothing new) and some where a stroll around the parking lot will get you connected and a few that have a better connection than I have in town. I know that the service is not as good this year because I have used a Square reader to process credit cards for many years and that does not work as well as in the past. Maine seems to struggle providing basic utilities and cell phone is no different than electricity or Internet, great when it works but you need a good back up plan. Luckily, I have the paper version as a backup, something I am told may not always be the case. On the backend the monthly reporting and payment requirement is a snap using the electronic system and will save a considerable amount of time over the course of a year.
My perspective is that the system works well and with practice I will learn where to stand or what launch to use. Rain and cell phone outages are here to stay as far as I can see so the backup system makes it fail safe for all of us.