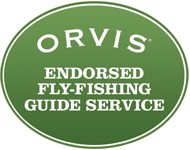 Don Kleiner is now an Orvis Endorsed Fly Fishing Guide! Orvis is a respected name in fly fishing with a long history of selling high quality gear and excellent customer service.
Over two decades ago, Orvis set out to make planning a world-class fishing experience easier for our customers. We sought out the best fishing operations in the most exceptional fishing areas of North America. The result was the Orvis-Endorsed Lodge, Outfitter, Expedition, Guide Service and Guide Program. Each endorsed operation has its own character, but all share the same high standards: great service, great fishing and an experienced, professional staff. These standards of excellence are continually reviewed by the Orvis staff and evaluated by visiting guests in post-visit critiques sent directly to Orvis. Orvis-Endorsed operations cater to every ability from beginner to expert.
One of only four in Maine adding another reason to the list of reasons why you should make a reservation today for a fishing trip.
I have done a fair amount of guiding for Libby Camps over the last ten years a long time Orvis endorsed lodge for fishing and wing shooting. I look forward to being part of the Orvis team and hope to have time to a store or two to help out with their learn to fly fish events.