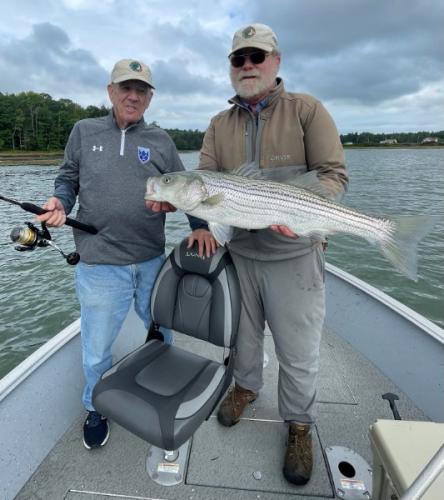 It is a great privilege to share outdoor experiences with you. From seeing a new species of bird or a seal or some part of this place it is a big part of what I get to do every day.
When I talk about firsts or a new angler our thoughts immediately go to kids and younger people. But that is not always the case as you can see in these pictures both of these anglers are not kids. One caught his personal best striper after fishing with me for over 30 years the other was on her first trip where casting a lure was part of the game. Her first pike and not a bad start on what I hope is a long career fishing.
September is here and the angle of the sun is already lower making it harder to see stripers on the flats but there is plenty of good weather and season left. I noted that the water temperature in the saltwater where we were fishing yesterday was still nearly seventy and the freshwater is warmer than that. I did have a fire in the woodstove after fishing most of yesterday in the rain. Our first fire since June.
I am looking forward to some cooler weather and perhaps a little more rain as the fall gets started not to mention that the leaves will be changing before long. Hope that you are looking forward to the coming season as well.