Great news! I can begin offering guided trips tomorrow using a set of safety protocols designed to make sure that you and I are safe. I can't wait to get back on the water with you!
Current safety protocols limit trips to Maine residents for the next month. What an opportunity for local folks to spend some time on the water. Using the safety protocols. Hopefully the quarantine requirement for those of you from around the country will be lifted before summer arrives.
Here are Maine Outdoors COVID protocols for the next 30 days.
Maine Outdoors Trip Procedures Around COVID-19
if you have any question or concerns please let me know at any time. These temporary protocols are for everyone's safety.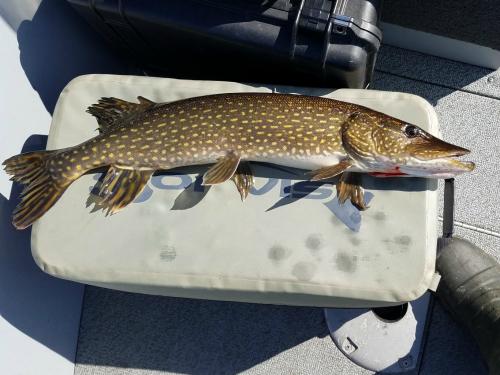 If you, a member of your party or I are sick we can't go. No matter how badly you want to go; or I want to take you. Not open for discussion.
We cannot ride in the same vehicle at this time. Not a problem on most trips but for now I will no longer be able pick you up where you are staying.
We will strive to maintain a 6 foot distance between individuals at all times. I have always prided myself on being able to take the entire family (within reason) on every trip but at this time in order to be 6 feet apart in a 20 foot boat I will be limited to 2 clients with a guide. At least for the next month.
On canoe trips it will be up to 5 per party as distancing is easier.
On all trips a bottle of hand sanitizer, gloves, masks and cleaning solutions will be readily available for use by you or me at all times.
Gloves, buffs and other methods of covering up are encouraged for protection from the sun and disease prevention.
Equipment will be wiped down with disinfectant at the end of every trip. Everything from boat seats, fishing rods and certainly life vests if worn on a canoe trip. Everything will get a thorough end of day washdown. Including boat interior and decks.
The metal water bottles that I started giving away to encourage you all to stop using so many plastic bottles will be replaced by, you guessed it plastic water bottles that you open at least for the short term.
I will not be able to provide sunscreen or insect repellent for you in the short term.
I am not allowed to provide meals on full day trips in May at least. Price will be reduced 10% ($70) to account for this change.
If I need equipment to demonstrate. I will use equipment that will be for my use alone.
Payment will be required in advance to avoid us having to touch the same items during credit card or cash transactions.
Pretty simple and well worth the effort to get back on the water and as you can see the pike are biting!