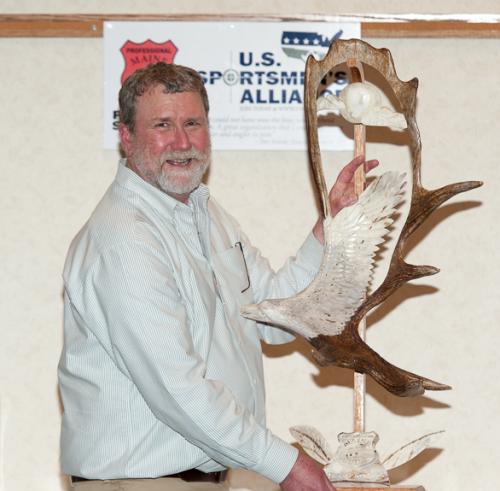 All summer and fall I am asked what do you do in the winter? I respond that I am the executive director of the Maine Professional Guides Association and go on.  What that really means is that I do all sorts of things on behalf of the guides in Maine. A pretty humbling gig to say the least.
The Association annual banquet was last Saturday and I was presented with a huge surprise for my efforts over the last couple of years as a member of the team working to oppose the recent referendum on bear hunting in Maine. Bert Goodman of North Country Lodge and one of our members carved a moose antler into an eagle, with a couple of feathers behind the association logo. The entire artwork is mounted on a beautiful oak stand.
I was more than a little surprised (and speechless) in front of slightly more than 200. More than a plaque or other award this took many, many hours to craft it is truly a gift of someone's time. Being recognized by my peers is an amazing feeling. I am very appreciative of the recognition and very much enjoying the addition to my office. Thank you all!
Those of you who meet me at the office to start your trips simply must come in to see it!