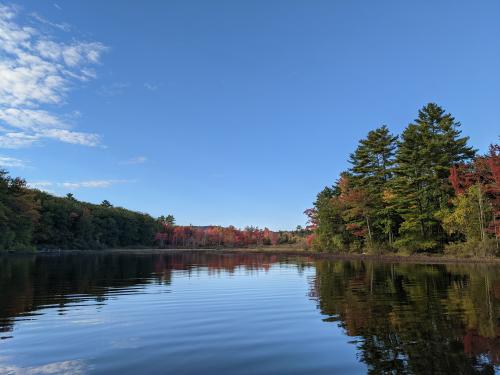 Except for the leaves changing you would not know that it is October! Warm days with little wind and clear skies. Making for scenes like you see here, well sort of the rainbow was after a brief shower one evening. My fishing trips on Megunticook Lake and Seven Tree Pond have been productive and there are still a few stripers in the Saint George River. More than enough to keep a morning trip interesting and with the almost perfect weather and nearly perfect foliage; what a time to be on the water.
I have been to Libby Camps once this fall and will return with the dogs a few more times before the snow flies. There are a few gaps that will allow I am thinking that this will be my last fall travelling there to guide grouse hunters, that will leave more time for fishing next fall and hopefully the weather is cooperates like it has this fall.
Still fall is the best time of year in Maine and this one is making that point, get out there and enjoy it!