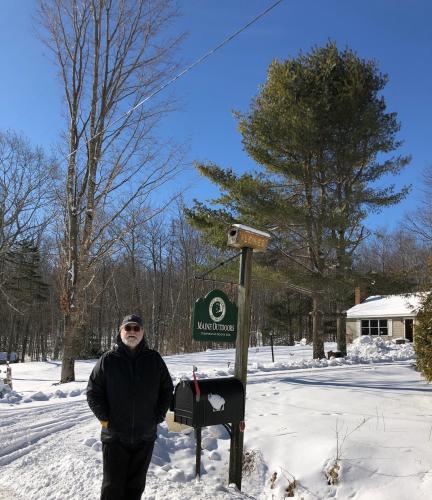 I see that the mid Atlantic region got a nice snowfall yesterday. Nothing to speak of here and the ground is barely white at this point. What the storm did do was pull in some much colder air so it feels more like January in Maine. The low here this morning was three above zero luckily no wind to make it feel any colder. As is usually the case when it is very cold there is not a cloud in the sky and we have brilliant sunshine.
The dogs prefer to spend as much time as possible in the office basking in the warmth. I take them out regularly and insist that they spend at least part of every day outside. While I work on the usual planning and upgrading of office equipment and processes to make arranging the details of your trips easier next season.
This weather also increases activity at the bird feeder, so I add filling that to my daily list along with the wood boxes and eventually the stoves. Of course, all of that wood turns to ashes that will need to be carried out in the end. I am also in a lot of meetings and legislative hearings in my role as Executive Director of the Maine Professional Guides Association and in the current health situation mostly from the comfort of my own desk.
I hope that you are enjoying the start of the new year and looking forward to getting back on the water like I am.