Or really trusting your instincts.
This morning I had a striper fishing trip, when I met my clients it was already raining and I offered raingear. They put on the gear and off we went. Fishing was lackluster near the harbor so I headed off downriver. About halfway to where I was intending to go the rain really started to come down. I turned back and stopped in quiet cove along a protected shore. Fish still ignoring the lures.
Something about the sky just made me think thundershower noth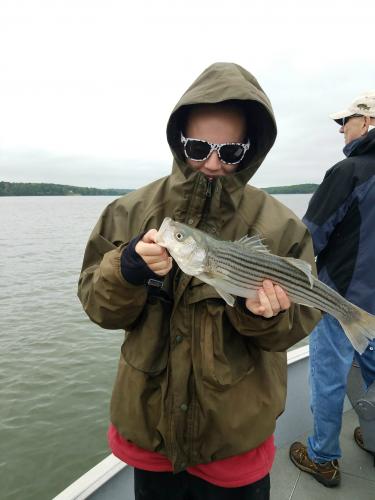 ing I could put my finger on. Maybe a cloud to the north that looked a little like the roll cloud ahead of a storm maybe the wind shift certainly I had not heard any thunder. Still something made me tell my folks that we were heading back to the harbor.
We arrived ahead of the harder rain that was now apparent in the distance we had just come from. After the clients had returned the rain suits and driven away (I'm sure for a hot cup of coffee) the rain arrived and the thunder started.
I still have no idea what made me think that a thunderstorm was in the offing beyond a feeling. Argy tells me that it is a simple case of trusting my gut. I expect that it is a combination of experiences over time and knowing what those clouds with the wind out of that direction means. Just one of the many reasons to hire an experienced guide.
I cancelled my second trip in the pouring rain and went to work at my desk where a second thunderstorm is now brewing. Better day tomorrow I hope!