A couple of incidents this week pointed out to me that the total lack of respect for small service businesses like mine is unchanged in thirty plus years. My prices went up this year for the first time in a long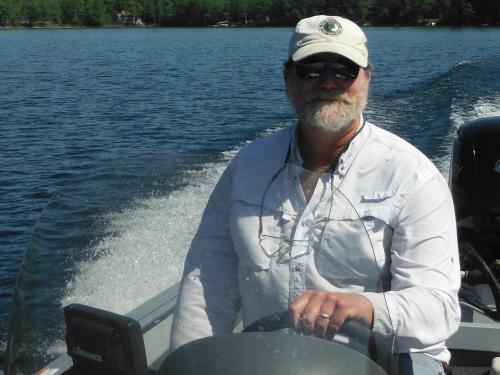 while which means changing prices on the web, in my software and of course my brochures that are displayed where visitors might find them.
The new brochures arrived last week and I've started the slow process of replacing the old ones. I went to my regional chamber of commerce office to make the switch. Expecting to easily find the old ones in the rack I was surprised to find none there! After the attendant and I searched it was clear that they were not on display (not a huge deal it is March in Maine after all). I asked if maybe my dues were not paid but no I'm all set there. I left the new brochures behind with the hope that perhaps they would be on display next summer and perhaps I would get at least one trip out of the effort.
I drove to their other office and clearly the phone call had been made. Met in the parking lot, with the explanation that my brochures were simply hidden behind a new sign and that is why they could not be found. The Maine Outdoors brochure was at eye level and easily found at this stop, new brochures put in place. All good for the moment.
As I returned to Union I received a call from a Maine Professional Guides Association member asking why we did not have our member directory at the show he was attending. The directory is new this year and was produced at considerable expense by guides like me looking to increase their introductions to potential clients. I responded that the Maine Department of Inland Fisheries and Wildlife and the Maine Office of Tourism should have them to hand out. He reported that the Office of Tourism had 50 and the Fish and Wildlife folks had none! For a four day show with an attendance of maybe thirty thousand! Enough for the first few hours I am guessing.
Keep in mind that like my local chamber both groups receive financial support from our businesses in the form of license sales and taxes. They had both been given ample supplies of the directory and offered more if needed. Just little interest in supporting the businesses that support them. At any rate after a series of e-mails and through the miracle of next day shipping issue resolved.
In both stories a problem that simply would not exist for say a large hotel or a retail establishment was resolved with added effort. After being in business for 30 years neither of these is important for my bottom line but I remember when I was starting out. Like my son is now. That each opportunity was critical, and one missed had the potential to sink it all. This has been a recurring pattern for my thirty plus years in business and is the reality that simply will not change no matter what we do.
How do we get small businesses like mine the simple respect that they deserve? Every politician or for that matter person on the street will tell you that we are the backbone of the economy and very important to them. That is until they must display our brochures!