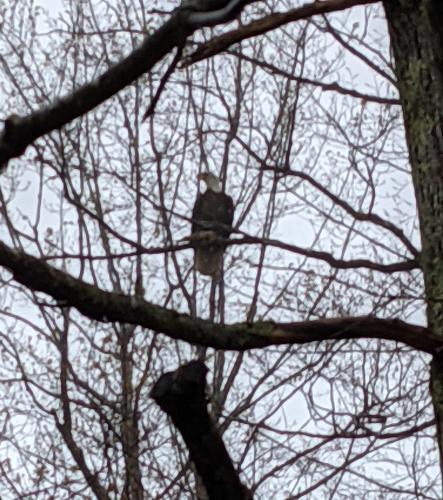 This is the week we go from winter or almost winter to spring. Last Friday and Saturday we had a stiff northerly wind and temperatures in the 40s, Monday morning dawned warm with almost no wind and plenty of sunshine. Water temperatures that had been in the low to mid 40s all of April sprang up to almost 55 at midday. Fishing has been slower than normal in the cold water and yesterday's sudden warm up seemed to have stunned the fish like us. We had many fish follow a lure right to the boat but not take; frustrating for the anglers and even more for the guide, better days are coming.
One of the things I've been doing now is some bird watching. It's been great fun to keep track of how many species I see in a morning on the water. I think the most notable thing is how many eagles ospreys and loons I see every day. The other is duck species that I have never seen in the area before. This week alone a northern shoveler and a bunch of greater scaup; species I don't usually see. Don't know if it means anything but it's been fun to keep track. For those of you wondering yes I'm trying out the ebird application on my phone to help keep track and contribute some data to the Maine bird atlas.
This is the time of year when the sun gets up very early and stays up late. It was light at around 5:00 o'clock this morning it was light last evening after 8:00 PM. Summer will be here soon that is for sure. Small mouth bass have already started getting ready to spawn and the largemouth won't be long behind. I see from the striper migration map but they are not far from southern Maine. I expect that the alewives we'll be in the Saint George on Mother's Day like they always are. Stripers will not be far behind. Like every spring everything seems to happen at once.
That point was made for me this weekend.  Argy and I went through boxes of old papers saved from Maine Outdoors. One of the real finds were my calendars from the early 1990s (remember paper calendars?) it was fun to see what trips people went on and even more fun to see names in that calendar I still guide today. Sad though to see the names in there that are no longer with us. Still every entry brought back great memories of times outdoors with all of you. Thank you!
The next few weeks are already filling with pike fishing trips, learn to fly fish trips, and family fishing trips. A good variety and guaranteed fun. My schedule seems to be filling up a little more quickly than most years and I am guessing that like the last several my calendar will be full about two weeks out all summer and fall. Please keep that in mind if you're one of my regular clients and are planning to book last minute.