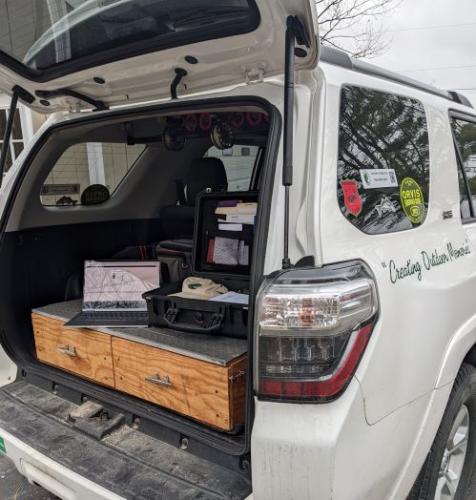 I wrote a couple of times this year about becoming an electronic license agent. I would say that the effort has met with mixed results. The obstacles are what you would expect weather, sparse internet connection and simply being able to fill in the forms quickly enough.
I found the boat launches that offer the best chance of success and figured out that typing on a table or the back of the 4 runner made it simpler for me. When I an filling out 3 or 4 licenses before a trip though the time factor is significant.
Fishing licenses are included in the price of Maine Outdoors trips so the financial part is already taken care of. My best results are when I have the information ahead of time, like when I am issuing licenses to repeat clients, or can fill out the licenses before the trip from my desk in the office. Those licenses are quick and easy for everyone and do not take any time away from the trip. Of course if there is no connection or it is raining I am still having folks fill in a paper license and doing the reporting on the backend for two types of sales to the state.
I am thinking about how best to issues licenses for the future and am wondering about asking for the information in advance. I need to have for each client over 16 this information.
 First Name, Last Name, Street Address, City, State, Zip Code, e-mail address, Sex, Hair Color, Eye Color, Height, Weight, Date of birth and if they fished in Maine saltwater last year.
Mostly standard stuff until you get to the physical description and date of birth. I am more than a little nervous about asking for that information by e-mail since that is not secure. Perhaps questions added to the reservation form? Still if you were arranging a fishing trip with a guide how would you be comfortable providing that information. By filling out an online form? Responding to an e-mail? Or in person as I do now even if it takes a little time at the start of your trip? I am trying to think this one through and would appreciate your thoughts.