I had less than 2 hours before dark and wanted to get in a quick fishing trip on a cool but pleasant evening. The boat was ready to go and the trailer hooked up to the Sequoia. Even with so little time a quick trip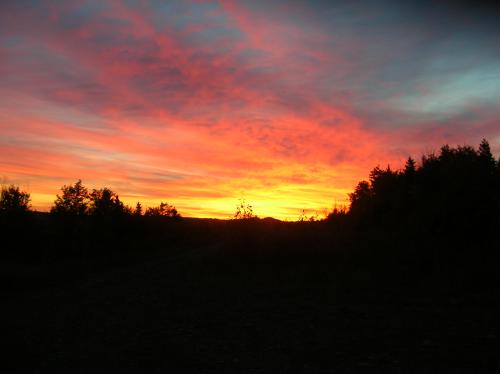 to Seven Tree Pond was an easy choice. Boat overboard and ready to go in 15 minutes. I headed up the river toward Round Pond and began to cast a fly to the shore most out of the wind.
In a few minutes I could see a small beaver swimming toward me, as he approached and realized that I did not belong there a big tail slap (well as big as that little fellow could muster) warned any other beavers nearby. As I fished along the shore he followed slapping every few minutes when he was again certain I was a hazard to other beavers. I finally yelled at him and he swam off and let me fish in peace.
As I entered one of the coves in Round Pond there was a much bigger beaver in the shallows and as it swam off I thought that it looked more like a seal than a beaver because of its size. This time I got a respectable tail slap warning. Fishing was very good and held my attention for a few minutes as the sun set I headed back down the river. Fishing the likely spots along the way.
Soon enough I spotted another small beaver hiding along the bank and before long an additional beaver warning had been given. As I motored slowly back down the river a final warning from the first beaver to send me along my way.
Years ago when I ran a sunset canoe trip there were lots of beaver in that stretch of river and sightings were a big part of those trips. Nice to see that they are still there and putting on an evening show.
Oh and yes home right at dark.