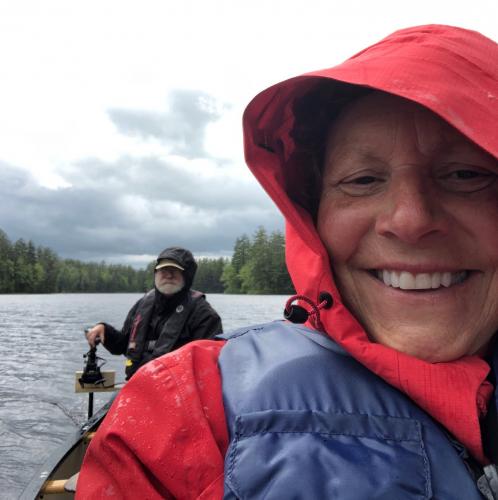 Our son Nicholas purchased an island on one of the nearby ponds last winter. He has been working this spring to set up a campsite with a wall tent. I used to guide on Stevens Pond in Liberty frequently twenty plus years ago but had not been there much since then.
Argy and I have been helping with getting things set up mostly cutting down and up the standing dead trees (widow makers for those who know) and recently getting docks he purchased in southern Maine located on the island. It has been fun to return and see how little things have changed over the years.
The pond has a horsepower restriction that only allows motors of less than 10 horsepower so I added a motor mount to one of the XL Old town Trippers on my trailer and have been using an electric trolling motor to get us out and back. Our most recent trip ended as a squall crossed the pond with lots of wind and some rain. A line of storms that is a worry on bigger bodies of water but yesterday mostly a rain event with enough wind to make navigating a canoe interesting but not impossible.
This picture is of us leaving and you can clearly see the storm clouds in the background with tip of the island between us. Not a great fish story or even eagle sighting (there is an active eagle nest on the next island over) but still a good adventure on the water.
This coming week has a couple of days of meetings and several trips scheduled, not leaving much time for other adventures.