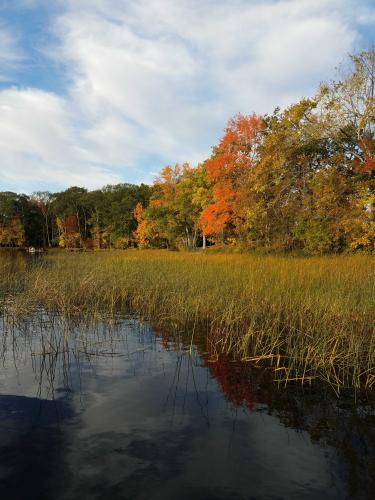 I was asked last minute to speak to the monthly meeting of the Penobscot Fly Fishers tonight. They offered a free meal and the chance to talk about anything I wanted to a gathering of I expect about a dozen folks. This is my big chance what will I tell them?
Sort of a theme of mine is that we make fishing too complicated and fly fishing does that in spades. I guide a couple dozen learn to fly fish trips every summer and always clients arrive thinking that it will be complicated. It's not and does not need to be. Fly fishing is simply a different method to present a lure to fish that sometimes fools them; at least enough to keep me doing it. Instead of the lure having the weight and pulling out the line when you throw it. The line has the weight and carries the lure. Simple as that.  You only need a rod, reel, leader, fly and line to be effective and they certainly do not need to be expensive. After all I learned on and fished with a discount store rod for many years.
There are hundreds of things you can do to complicate that simple idea and supposedly make fly fishing more fun. Including hiring someone like me to take you to the best places to find the fish you are looking for. But even on my best day I am only guessing based on past experience I do not have any real idea what they are thinking.
A great example of how complicated we can make things is that when I was younger, we had waders with boots attached. Simple enough and only one thing to keep track of or maintain. Today though waders are separate from boots not only adding to the things I am tracking but they are now much more uncomfortable and did I mention expensive. Who really is ahead on this one?
What I will tell the Penobscot Fly Fishers is that we all need to make fly fishing simpler and more accessible to anyone who might be interested. After all what we are all looking for is an enjoyable pastime that will get us out in some beautiful places.
Like all of you I can't wait to see what I say.