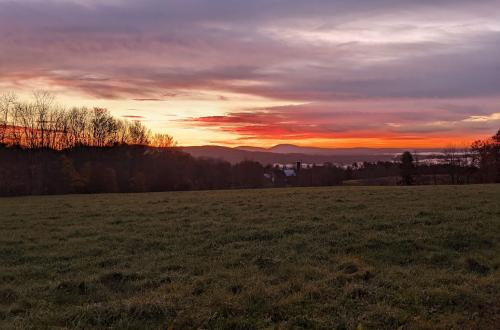 I'm getting close to the end of the season. Not yet over for me but getting close enough to think about the early winter chores. The sunrise is now far enough to the south that we see it from the house and today's was spectacular. I have a few more reservations but by Thanksgiving it is usually too chilly to fish comfortably, but this week is forecast to be in the 60's every day and not too cold at night. Our spectacular fall continues.
we took last week off and went to the North Maine Woods for a few days of grouse hunting. Warm and wet best describes the conditions. Still it was great to spend time up there and not be working. The first October in 20 years I was not guiding at Libby Camps, we did go one evening for supper. Fun to visit with everyone and see the new kitchen, a pretty amazing transition.
What I will do all winter is still an unknown since I am no longer leading the guides association and will not be representing them at the legislature. On the upside I notice that the amount of e-mail I get is way down. I have a few projects around the house that I hope to get to this winter and a trip to somewhere warm and sunny is certainly on the list.
For the next few weeks though I will still be working on the local ponds guiding fisherman and enjoying the last end of our spectacular fall.