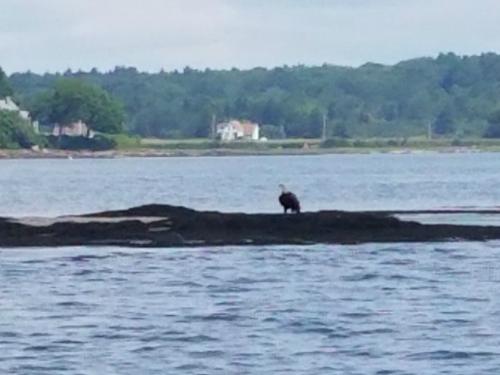 No not this week for sure or even next week. But certainly by the middle of November and tapering from a couple of trips a day to a few a week before the end. Stripers are not gone from the Saint George but they have thinned out enough to make catching one a lot more work than it should be. All of my remaining trips will be on the freshwater for bass pike and a few trout as the water temperatures drop.
So far October has been warm and dry and two parties lucked out with perfect afternoons for Scenic Maine Coast Boat Trips. Little wind, warm temperatures and fall foliage made for perfect afternoons on the water. Today the main feature was dense fog which always makes navigating on the salt water more interesting. We did get very close to two eagles standing on the rocks we were fishing near. I always forget how big they are until I see one standing on a rock that lets you really see their size.
Freshwater fishing has been very good and I expect that it will only get better for the next few weeks. The forecast looks to feature more fall like temperatures and I for one will be pleased to need a jacket in the mornings. Still openings in the calendar for the next few weeks but clearly the season is coming to an end.