This past season was my busiest ever! I must apologize to the folks who could not get the trip that they had in mind, the folks that I still owe thank you notes to and the firewood that is still not stacked for the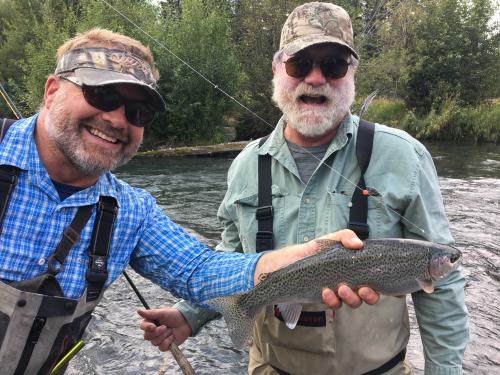 coming season. It was all fabulous check out some of the reviews here and on the Maine Outdoors Facebook Page.
At the end of the season Argy and I spent two weeks in Alaska. Yes I hired a couple of guides and got cancelled out of another trip by forest fire smoke. It is always interesting and fun to see someone else do what I do only in another place. The picture is of my guide Jason and I with a Rainbow Trout one of many we caught that day along with many Dolly Varden Char. I loved being able to see the fish we were trying to catch and watching hundreds of nearly spent salmon in every pool we fished. Pretty amazing sight.
It was also refreshing to hear about the working relationship between the Alaskan guides and their Fish and Wildlife folks and the land managers for various agencies (mostly Federal). Needless to say we have a very long way to go in Maine! More to come as I give all of this more thought.
In the meantime, there are still stripers in the Saint George and the freshwater bass fishing has really turned on in the last few weeks. So not a lot of idle time in my schedule.