I'm home from the season guiding grouse hunters at Libby Camps in northern Maine. Unlike my other seasons my days consist of teamwork; me and the dogs. In reality it is the dogs and me because I can't smell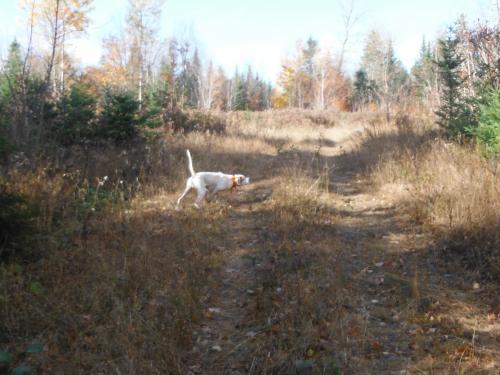 well enough to find any birds they are the show. My part is to get the dogs and hunters in the places where success is more likely and then keep everyone safe. The dogs happily do the rest.
Every day is a joy for the dogs, the hunters and I walk six to nine miles and the dogs easily triple that. I know through the miracle of a GPS collar that is way smarter than I am.  The season is filled with finding birds in rain, sun and sometimes snow. I enjoy the days not nearly as much as the dogs, you can tell by the wagging tails and eagerness to go in the morning.
Each dog has a personality and working style. Rocky my oldest pointer was hard charging and loved to find a bird on the side of a road pointing like in the picture with all of the intensity a pointer can muster. One afternoon he ran to the end of a short log landing where I expected him to find a grouse in the open; nothing when he ran down, I called him back and thirty feet after he turned mid bound he caught the scent of a bird and froze in midair. Slamming to a stop and screaming in dog body language "it is right here!" As luck would have it there were two birds and both of our hunters were successful.
I owned Rocky for seven years and we had developed a working relationship that was a joy if sometimes stressful. He knew full well where the birds were and really did not tolerate me calling him off if it was too thick or dark or it was time to go. He had also developed a real sense of how to work a running grouse; a skill that not every dog masters.
On our last afternoon of the season I let Rocky out and he bounded out of his box with his usual enthusiasm. We hunted up a hillside and I could hear him slowing so I turned us down the hill heading back to the truck. We had not gone far when the young hunter on my right called over "Don, Rocky is laying down" I covered the distance quickly and when I got there. Sure enough Rocky was laying down, not hurt or even tired but dead. No pulse and not breathing. I sadly carried him down off of the hill.
A very sad afternoon to be sure and the next morning too when Rocky was buried at Libby Camps where he and spent his most joyful days. Sobering to be sure, especially as I get a little older. Still he went doing what he absolutely loved, bell on his collar and looking for birds to point. RIP Rock we will all miss you.