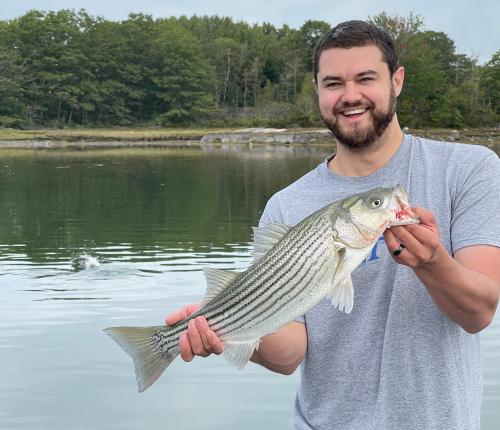 The photo was taken by a client on a striper fishing trip Saturday. Really not a remarkable photo except that if you look closely you can see a striper chasing baitfish right over the tail of striper that was the focus of the photo. We were on a good number of breaking fish and as always it was pretty loud and to me awe inspiring. We talked about them trying to get photos and video to and I allowed that I had tried several times and never been successful.
We had been fishing further out in this cove when I could see the activity in the rear in shallow water. We picked up and I hurried us in to the breaking fish. These clients were new to salt water and stripers meaning they had never seen anything like it. I have seen it many times, but it still gets me pretty excited seeing such powerful fish right there on the surface. In this case they were all around the boat resulting in each angler boating a couple of fish in quick succession.
The icing on the cake though was this image arriving in my e-mail this morning capturing something I have seen but never been able to document. A one in a million photo if you ask me.
Water temperatures are still quite warm (high 60's on Saturday) and there is lots of bait in the river I expect that the stripers will stick around for at least a couple more weeks. I am looking forward to striper fishing with the fall foliage in the background.