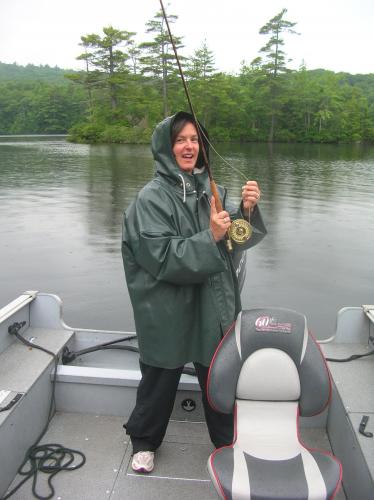 I love the variety this time of year. In the past week my clients and I have fly fished for native brook trout on a small stream, bass fished on a clear lake, learned to cast a fly line, caught their first perch and caught stripers in the saltwater. This is the stretch where I constantly feel like I should be somewhere else but in reality, everywhere is the right place for a few weeks anyway.
This is also the time of year that the Rose Breasted Grosbeaks arrive and are singing steadily. I have my cell phone ringtone set to that exact song and for a couple of weeks am thinking that my phone is ringing all of the time! Sometimes I even think "I thought I shut that ringer off" funny when you see me dive to answer or kill the noise even when it is coming from nearby treetop!
Mixed into all of that have been a few scouting trips on my own that are a part of what I do. Some seem to think that the where to fish manual is handed out at some point after you get a guide's license. In reality it is earned knowledge; you have tried everyplace when conditions were like this and here is what worked most of the time. Luckily after a few decades I have a little experience to rely on.
Needless to say, it is great to be back doing what I love to do and I am looking forward to the coming season.