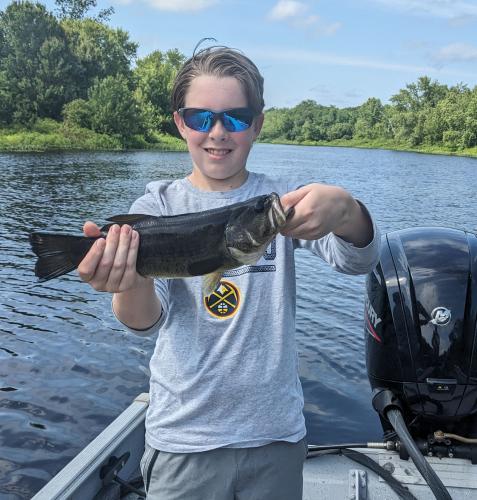 I've been on a variety of fishing trips over the last month or so, fishing for pike, bass, stripers, and even a few perch. Catching perch with young kids is still one of my favorite fishing trips.
Overall, the fishing has been better than the weather. The higher water levels in the freshwater lakes and rivers have kept fish active on all but the hottest days. I'm enjoying the access that the higher water provides to some of my more remote fishing spots.
Notable catches include a few pike of better than five pounds, along with a satisfying number of bigger bass. Every summer I promise myself a digital scale to give me a better idea of fish sizes. Promise made again this summer.
Stripers have been for the most part cooperative in the last month. They still hate a bright sunny afternoon, but like last month I'm seeing a nice run of fish, most a little over or under the 28-inch mark. Menhaden have been more sporadic in the Saint George this summer, so that source of nourishment has not been as reliable for the stripers, making them just a little hungrier.
Water temperatures will begin to cool in a week or so as we begin the slide to the cooler months. I have to comment on the temperatures in the saltwater. They have been a little over 70 degrees Fahrenheit for the last couple of weeks.
The weather forecast for the next week is for much cooler and drier weather. With any luck, the rain, heat, and humidity are behind us now! No matter what, as we trend toward fall, fishing will only get better, and I'm looking forward to a few more months of fun!