I meet lots of folks who think that I have the greatest job in the world. They are right, guiding is a great gig, except they do not understand what my job is really about. Most think that I am fishing or bird hunting or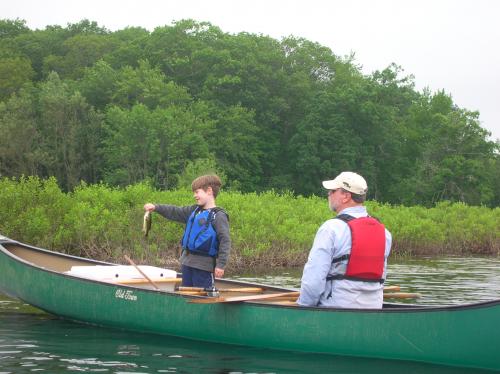 paddling a canoe or watching eagles all of the time. What I am actually doing is helping someone else do those things and be successful at it, safe and comfortable as I can make them. No matter their skill or experience we are there for clients to be successful.
I remember long ago talking with Wayne Bosowicz at the time a bear hunting legend in this state and nationally. We were at some meeting or other and I have never forgotten him saying to me "people think I am in the bear hunting business but I am in the people business". He could not have been more right. A guide's role is to help others simple as that. Perhaps in sometimes challenging conditions or locations but the bottom line is I'm there to help and keep you safe. I admire someone who arrives at the boat launch with their family and has them all hop in my boat and lets me take off into the fog after only a brief safety talk.
This time of year I hear from many prospective guides and those who think someone they know should be in this business. My favorite is the school guidance counselor calling about a student who is not getting along with her peers or teachers; thinking that all I have to do is know about fish and wildlife. Or the kid who wants to be my intern only to be disappointed to learn that a lot of my time is spent communicating with potential clients and explaining exactly what it is I provide (not to mention washing coolers and shoveling snow).
After 30 plus years I also bring a long experience that helps you to be successful. That point was made for me this summer when clients caught stripers in a number of places I had not fished with a client for ten years. I simply remembered a day just like that one from long ago.
Still though it really is about the client and not at all what many others think.