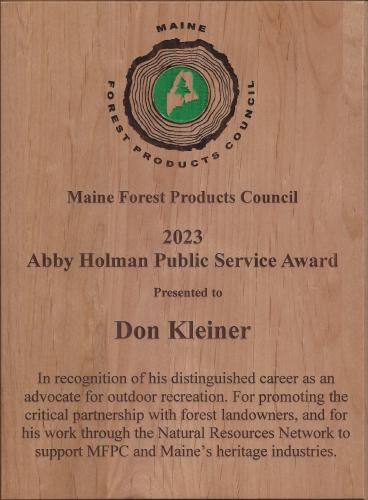 This week I was humbled to have been presented an award from the Maine Forest Products Council. The Abby Holman Public Service Award is given annually to an individual who has demonstrated a level of passion, loyalty and dedication to Maine's forest products industry, to good government and a robust economy, much the same way MFPC's former Executive Director and friend Abigail "Abby" Holman did.
Read their press release here.
What I love about this award is that the Guides Association who I worked for did not always have the same position on issues as the council, but we were still able to work together. I also like that they recognized a long history of working together on issues important to both groups.
The award comes with a nice plaque and letters of congratulations from some of Maine's Congressional delegation. Images of all alongside. The list of folks who recieved this award before me is a list of folks i have worked with and admired for a long time. Making this a truly humbling experience.
Thank you to the Maine forest Prodcus Council for the recognition and cooperation over the years.