The restrictions have been lifted on guiding for a little over a week now. I have guided one party and had three cancellations. I do not blame any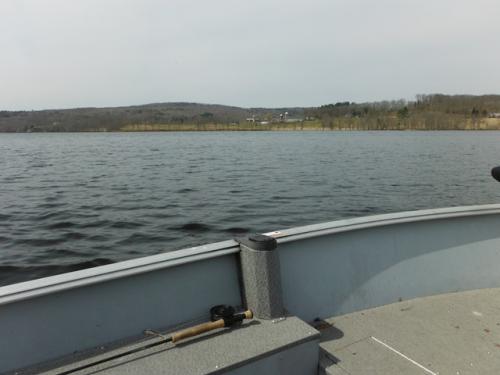 of the cancellations though with snow in the forecast for Friday night and Saturday complete with high wind advisories. A cold wet spring on top of our health worries. So far so good at our house and I hope the same at yours.
Our yard is raked, the garden will be in as soon as things warm up and the firewood is set to arrive soon for next year. Some things are normal. I might also comment that the spring warbler migration is in full swing and the bright little gems are everywhere. Hope that they are ready for a little snow. The trillium by the dog kennel are in full bloom!
This evening I saw the first stripers have arrived in southern Maine. I was reminded that we had snow on this date last year too so no need to whine about it being unusual. Actually with the world seeming so out of control it is reassuring the see the normal natural cycles still continuing.
We are fortunate to live where that cycle is obvious and part of our everyday lives. Getting out is as simple as putting on a jacket and going for a walk. Or heading to the local boat launch for an hour on the water. Having a boat on the trailer ready to go at a moments notice. I have been spending way too much time in front of a screen this spring and aim to spend more time taking advantage of what is right outside the door.
Hopefully this time will pass and some of you can join me before long.