I get some nice reviews and post them to the reveiws page on ths website. This one (below)  though tells me that I hit a home run for this family! I love having these opportunities. Thank you to all of the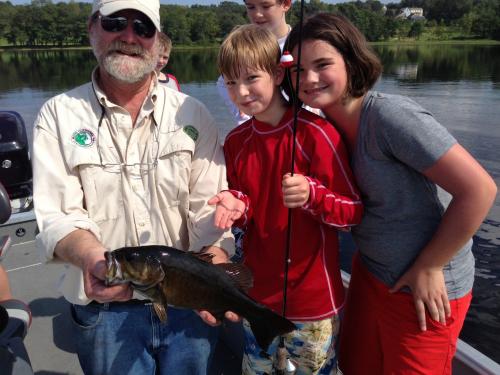 families who trust me with a part of their vacation.
Leave A Review: My family of four - me, wife and two kids (ages 11 and 12) went out on a fresh water lake with Don. I can't explain how patient Don was with the kids (and my wife and I). Sure, Don is an expert fisherman - I bet there are many of those around - but, I seriously doubt there are any as comfortable, happy and yes - patient - as Don. In short, our older son was having trouble catching a fish, while our younger son was catching huge fish and getting a ton of bites. My wife and I were also catching fish. My older son was following instructions for the most part, but just wasn't getting any bites. Our trip time was up, but Don kept going to different spots and finally our older son caught a fish. Don was not annoyed - he was so good with us and the kids. And, yes - he is an expert that knows every turn and hole in the Maine area. I can't recommend this experience enough.