As you might expect there are some fun parts of being a guide and to me the early season is one of them. My goal is to spend time at each of the places that I intend to guide in the coming season. The real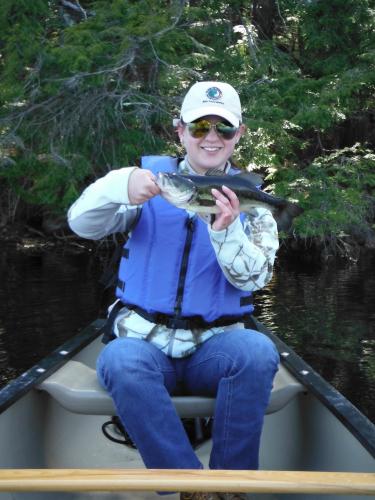 purpose is to be aware of any big changes that may impact a client trip. The fun part is that I get to fish a number of places and just get back on the water.
Last week I visited a pond that I have not fishing on for well over ten years and it was great fun. I had forgotten how much I enjoy guiding out of a canoe. I spent many years paddling clients around the various ponds in my Grand Laker and over the years have transitioned to the Lund Alaskan. I'm going to try and spend more time in that canoe this summer!
Using the bigger boat keeps us from many of the smaller out of the way places with hand carry boat launches or like this pond a restriction on the horsepower of the outboard motor. Indeed several of the places where we caught fish would be impossible to get to with any other than a canoe. Simply too narrow or shallow; several fish came from much less than a foot of water. What fun all around, visiting a place I had not been to for years, guiding out of a canoe again and catching a few fish in shallow water.
Needless to say if you like to spend time in the small back water places let me know and we can plan your trip there!