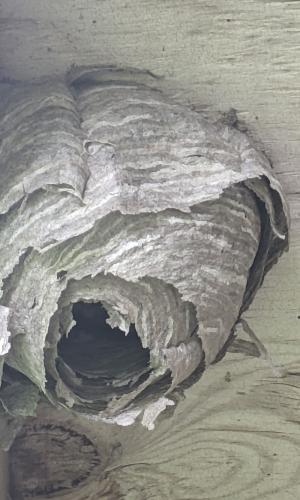 Over the years I have seen a cartoon showing an angler with a line tangled in a tree with a hornet's nest right above. Sometimes there is a guide in the picture.
Yesterday I became the guide in that picture much to my surprise. Fishing with 3 generations of a family we had just gotten started when one of the boys made a cast that was a little to long and looped over a branch of an oak tree. From experience I know that oaks do not give up their prize easily, so I turned the boat an using the trolling motor headed in to undo the error.
Luckily it was raining lightly; two reasons first my soon to be antagonists were reluctant to leave their dry home and fly and second, I had on my rain jacket which is hornet proof. I got under the lure and reached up to pully the limb down to retrieve it and was shocked to feel a sharp sting on my ear. Not at all pleasant or expected. Looking up there above my head was a hornet's nest teh size of a softball about three feet above my head. Since I was looking up I could easily see the angry bees focused on the intruder trying to wreck their quiet morning at home.
After telling everyone to move to the back of the boat and approaching more carefully I was able to carefully reach in and cut the lure free while looking up at a nest of very angry hornets. No more stings and luckily no one else had been selected to be punished for getting too close.
As you would guess the ear hurt for most of the day and swelled a little but luckily, I am none the worse for wear and the trip was a great success. Took a long time but I now see myself in that cartoon.
The picture does not show the nest from yesterday but one from last year in eves of the dog kennel; you get the idea