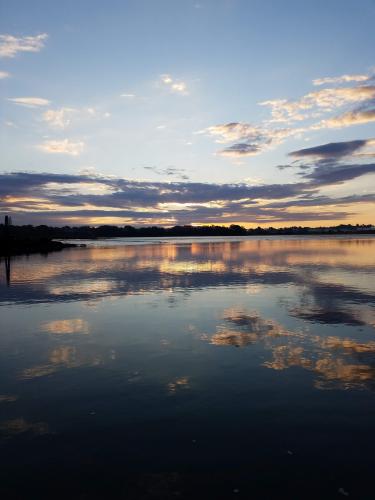 Hard to believe that August is nearly over. This month has been as busy as ever for me, much better than I expected even six weeks ago. This is the month of family fishing trips and I have done a bunch. We have caught perch, bass, pickerel, pike and stripers. Some of those were someone's first fish ever and others something that they will dream of all this coming winter. Every trip though is a great chance to be outdoors, see some wildlife and enjoy time in a beautiful place. As teh days shorten a season of beautiful sunrses as I wait for my clients to arrive as in this image.
I am finding the freshwater fishing to excellent right now. In the Saint George drainage the juvenile alewives have started to make their way to the ocean and everything is feeding on them; encouraged by the falling water temperatures.
On the saltwater August was a challenge in the striper hunt we had very warm water (over 70 degrees for a couple of weeks) and more pogies than I have ever seen in the river. Still the striper fishing is getting better every day now with the cooling water and migrating bait. Stripers are still taking surface baits which is always a blast, this week I fished with a woman who could not believe that fish would so aggressively take something form the water surface and make such a big splash while doing it. The only question on the saltwater now is how long the fish will stay around. Two years ago they were here well into October and last year gone by mid-September. So it is anyone's guess. That is sort of the fun part not knowing what each day or trip will bring and trying to figure out what is happening below the surface of the water.