First a fishing report. On the saltwater the striper fishing has been noting short of amazing. Good numbers of fish from 16 to 24 inches most days and tides. I have seen a few big fish go by but nothing on the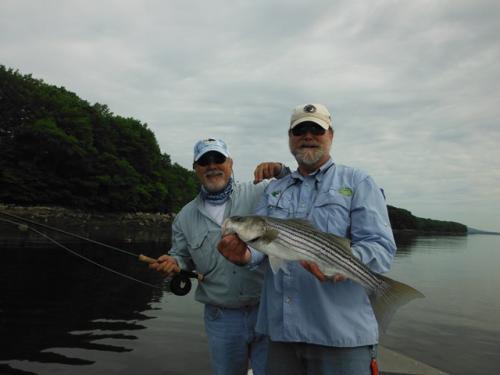 end of a line yet. As always I prefer the last couple of hours of the outgoing tide but most days it does not seem to matter and the flats at high tide have been dependable.
Freshwater fish for bass, pike and perch has been quite good overall. A family yesterday and one son boat fifteen or so perch and the second one a couple of nice bass. The dad was not as successful but did manage a few fish to the boat.
There is plenty to see on the nature watching front as well. The young eagles are now moving around the nests and will soon be ready to launch on their first flights. I saw loon chicks on Monday afternoon on Round Pond here in Union.
So far this summer the weather has been almost a little too pleasant with us needing rain (don't worry we are getting some today). Pretty glowing report if you ask me but there is a downside. My calendar is almost completely full for the next week or so. Make your reservations soon for later on this summer.