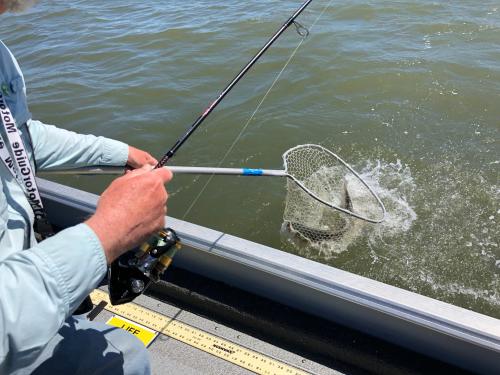 This summer is definitely unusual for us but the fish don't seem to know that things are a little off. In the last week I have had the good fortune to guide trips on both the fresh and saltwater. Both freshwater trips took place in serious rainstorms and as is usually the case in a rain that breaks a long dry spell the bass fishing was outstanding with a good number of willing bass on Megunticook Lake. The early summer pattern is in full swing with fish holding in about 8 feet of water and hungry. I am back on Megunticook twice in the next week and am looking forward to it. Clients have posted some pictures on the Maine Outdoors Facebook page if you would like to see their perspective on their trips.
I have also been on the Saint George River fishing for stripers a few times recently. There are good numbers of fish in the river and on yesterdays incoming tide a few bigger ones (30 inches and above). A couple of things of note. There are again this summer a lot of pogies in the river. The other thing is that a topwater lure or fly is the go-to especially at lower tides in very shallow water. Yesterday I raised the outboard and went right up on the flat using the trolling motor in less than a foot of water. It was possible to sight fish on pods of stripers feeding on the flat. My favorite!
I had no luck with any flies except topwater poppers, even my specially created green crab flies got no attention to compare with the surface flies. The next week looks like conditions will stabilize and move us right in to normal summer patterns. Time to get out there and enjoy!