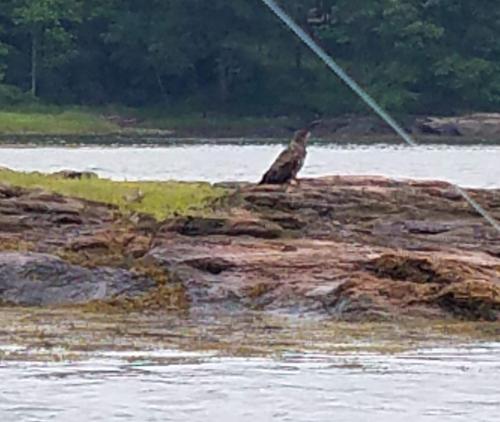 I have noted before that the eagles in the Saint George spend a lot of time sitting on the various ledges. Frequently mixed right in with the gulls. I have also noted that when the stripers are chasing bait on the water surface. (a very exciting event I can assure you) that the gulls are there as soon as it starts but the eagles have been there for five minutes waiting for it to start.
Wednesday afternoon this young eagle sat while we fished very close to the ledge where he was sitting for about ten minutes. Many fish to the boat and lots of general mayhem that a successful fishing trip includes when there are small children on board. So this is either a very patient or very curious eagle. Which of course brings the question is this a striper fishing trip or an eagle watching trip?
Sorry about he photo quality apparently my cell phone has limits but you can see the fly line in the foreground to give some perspective.