This summer has been incredibly dry. August and September are usually dry, but we have not had much rain all summer and now it is really starting to show. The Saint George River heading upriver into Round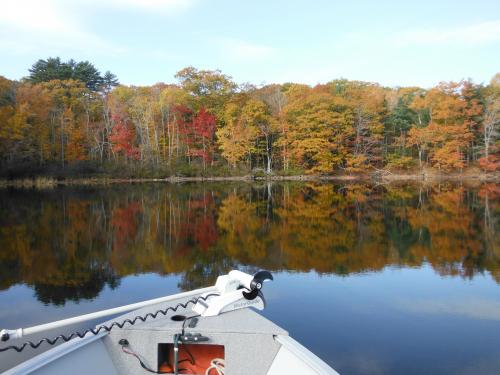 Pond from Seven Tree is so low getting a canoe through required getting out of the boat last weekend. The beavers sensing a dry fall coming had already started a dam there on Sunday and have made good progress since.
Fishing has held up in fresh and saltwater. Stripers are still in the river although not in the early summer numbers. We are still waiting for the southward blitz that usually comes this week or next but with no freshwater flow the little herring cannot make their way into the saltwater in time to attract them. As a result of the bait being trapped in the freshwater ponds the fishing there is holding up nicely.
The weather has been very cool this week (I actually changed my start time on Monday to let it warm up) but the forecast has it warmer for the next couple of weeks anyway. I have folks planning to fish with me to the end of October and am heading north to Libby Camps much less this fall. The dogs will not be happy to learn this. It will be great though to see the season progress from the water this year. The Leaves have definitely started to change color here but we are a couple of weeks at least from that riot of color that we all expect from fall in Maine.