At the Orvis Guide Rendezvous we heard about the Orvis Commitment to Conservation which is significant. In the last week I began to wonder if Maine Outdoors measured up and a review of my calendar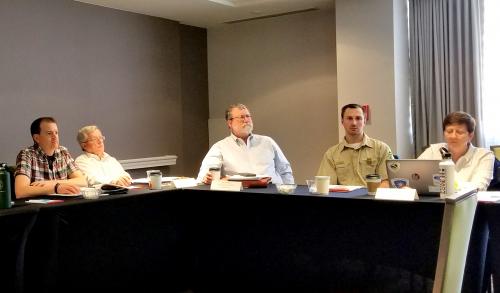 proved in that it does. That is if you measure commitment in terms of time and effort.
First off is working for the Maine Professional Guides Association a group that I have always been proud to say holds the resource first. That of course is no small commitment although this fortnight it takes second place. I spent the end of last week in Baltimore at the semiannual meeting or the US Forest Service Region 9 Recreation Resource Advisory Committee representing non motorized outfitters and guides. We review recreation fee proposals (increases, decreases and in some cases elimination) campgrounds, trails, day use fees. Keeping an eye toward insuring that recreation activities on our forests will sustain themselves.
This week I will be attending a meeting of the Land for Maine's Future where I am a member for the next four years. We approve funding and changes to land and easement purchases funded by state bonds. This group was the center of controversy in the recent past but now seems able to concentrate on doing good conservation and land access work. Carefully spending the resources entrusted to us to conserve important parts of the Maine landscape for the future..
Rounding out the week are two meetings of Keeping Maine's Forests a group focused on making sure that our working forests stay just that by working cooperatively with landowners. One day as a member of the groups steering committee and another as part of the recreation committee. The recreation group is focused on making sure private landowners are not harmed by allowing public access to the land they own.
Given that all of these groups meet multiple times a year and take a considerable amount of time I guess you can say that the commitment to conservation very much extends to me at Maine Outdoors.