Yes, it has been cold here and there is not really a break in sight at least for the next ten days or so. This is the sort of weather that clients imagine we have all winter. Truth is that while this is not record-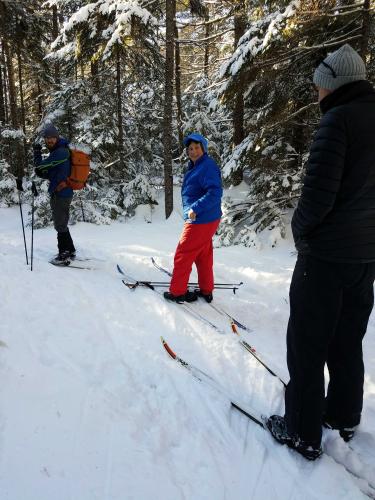 breaking cold it will be notable for its duration. How cold is it? The high today was right around 1 degree Fahrenheit when I let the dogs out of the office to feed them at around 7 last evening the thermometer on the outside of the kennel read six degrees below zero.
The dogs are in the office most of the time and I am working around the house and office getting the little repairs made and keeping the stoves stoked. The woodpile really melts in weather like this, it is a good feeling knowing that there are a couple more cords under cover alongside the kennel.
On the upside. The Christmas day snowstorm left us with some of the best cross-country skiing in quite a while we took advantage and spent an afternoon on skis the next day. The days start to get longer next week, before you know it the ice will be gone, and we will be fishing. I have already taken a few reservations for the coming season. Already well on the way to a great new year. Hope that you are too.