The summer season lasted well into September this year. The weather has been warm even hot although we have been promised a change today. Fishing held up far better than usual with good striper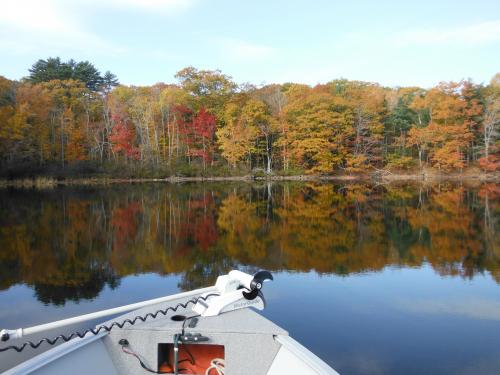 fishing right to the end of the month. The freshwater fishing has been slow to look like a normal fall with warm low water. The leaves know that fall is here and have already started the transition which made the scenery from the water even more spectacular. Here are a couple of pictures to make the point.
Today I began to put some things away and get others out in preparation for the change to my fall season. With only a couple of fishing trips scheduled for next week and the beginning of the grouse season a whole different set of equipment comes out. Clients always ask which activity I prefer but the truth is I love the one I'm doing now. It will be hard to put away the rods and reels and transition to the dogs, bells and orange hat of fall but after a few days that will be my favorite again.
Take some time and get out there and enjoy all that this coming season has to offer.