My season is finished, I returned form Libby Camps last week after guiding grouse hunters for most of October. It is always a great feeling to be finished for the year but then the work of maintenance starts.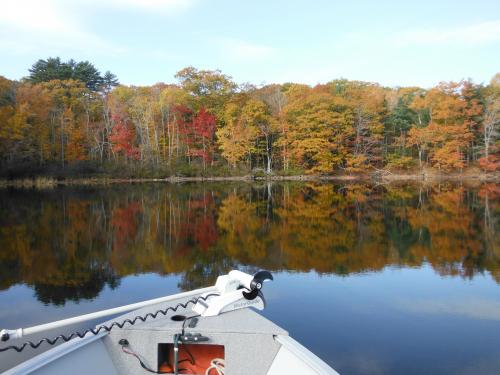 This week the Sequoia goes in to be detailed. While that gets underway, I always get to thinking about how much things have changed in the last 32 years.
The point was made clear yesterday when I took the dogs for a little exercise and returned to a local grouse cover that I have hunted for most of my career. As Rocky and I went around the back side I stood in a spot where I have found literally dozens of birds over the years. I looked around and realized that the trees are now well over a foot in diameter, not really bird cover any more! Nell is the new pointer that arrived after Blue died this summer and she makes the point that there have been many bird dogs with me over the years. She is a great little English Pointer and it is great fun watching her learn the craft of being a grouse dog.
During the summer clients caught stripers in places I have not seen fish for ten years and the fish stayed later than ever. One of the most memorable days this season was in late September. Mid-summer was hot and even the saltwater got into the seventies something I had never seen before. Boats, vehicles and other equipment wear out or are upgraded over time creating further change.
The technology I use every day has certainly changed and made life much easier. I think of the GPS on the boat or in my hand that tells me exactly where I am. The latest version also tells me where the dog is and what he is doing.
As the winter gets closer and the days shorter change is the only certainty and while I lament some of what has been lost I am amazed to see what happens next. I'm already looking forward to next spring and getting back out on the water with you.