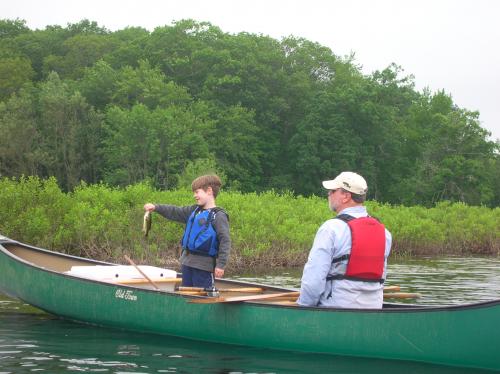 Since Maine Outdoors was started now 36 years ago I have been proud of my ability to fit everyone who wants to go on a trip into my schedule. Until the last few years it was always possible, I would guide another trip after supper or move something around to make it work. This summer has been very different; my calendar has been filled three weeks out for a good part of it. Most react by saying "good for you" but I have to confess that I do not like it. To me there is nothing worse than having to say to someone who wants their family to experience (and hopefully love) the outdoors like they do that I cannot fit them in. This is especially hard to say to someone that I have guided for years.
I am guessing that there are a number of factors at play here. I no longer can do that 3rd trip in a day and be any fun the next day. Nor can I work 7 days a week any longer. In fact today was my day off this week and to tell the truth I worked at my desk and picked up supplies for the next week or so. Not really a day off. So there are limits on availability at the same time there is increased interest for a variety of reasons. Not the least is that getting outdoors is a safe way to spend time in a pandemic.
I have a few other guides that I refer folks to and am confident they are getting the experience that they are looking for. Still it is a new thing for me to wrestle with; not being able to take everyone that wants to spend time with me. I don't have a solution at the moment and am trying to find the best way forward. Worrying all the while that some grandchild will not get to go and catch a few perch or see an eagle fly.