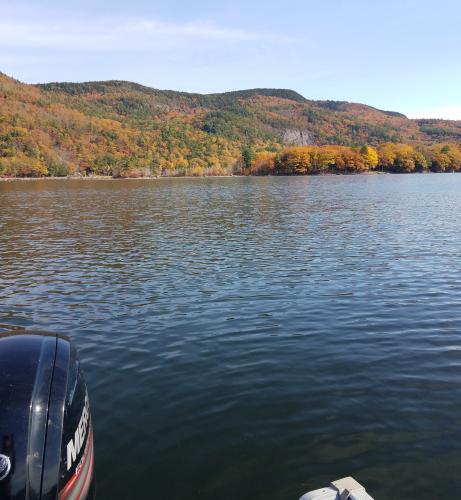 September has been busy and the weather mostly nice. We did have some rain (not enough) but many days gave us nearly perfect temperatures and clear skies. I have been on the water with clients most days this months and almost every party asks "where is everybody?". Not a change from normal from where I sit. I think that many consider summer to be over as soon as Labor Day passes. Too bad because they miss out on what I consider to be the best time of the year but on the upside I am frequently the only boat on a body of water on any given day.
My season has been about the same as the last few. I usually guide about 130 parties a year and am about to start October with 125 trips behind me so far this season. I am guessing that it will end up almost exactly on the average especially if this good weather holds and the fishing is still great. I expect that stripers will be gone from the St George in the next week or so. There were fish around yesterday but they were very grumpy. Freshwater fishing on the other hand is really starting to improve with the cooling water temperatures. Our lakes and the river are at much lower water levels than I would like to see but not so bad that we cannot fish.
It has been a pleasure to focus on fishing only and not be a split personality rushing around to get ready for the coming month at Libby Camps. I am certain that the coming month will continue that relaxed feel and I expect good weather for at least the next couple of weeks. Lets get out there and enjoy every minute.