April is always a month of change here. We are all thinking spring with warm weather and the first flowers in bloom but the weather is stuck on winter. This morning we awoke to temperatures in the twenties with a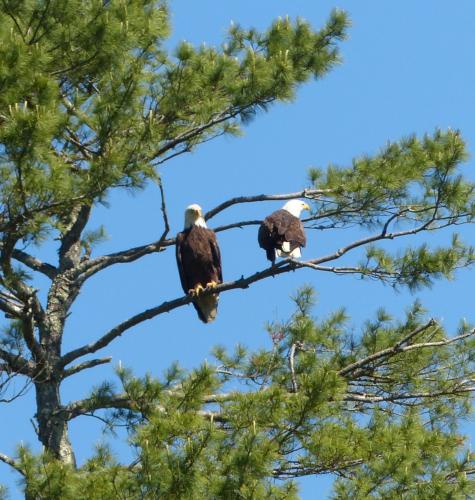 strong northwest wind. Not January but certainly not a warm spring day. Yesterday we were greeted with a couple of inches of wet snow to remind us of what could happen. Still the days a re much longer and other signs of spring are showing like the pussy willows in bloom.
Yesterday I left the bank and heard eagles overhead. There spiraling above me was a pair of eagles calling steadily to each other and lazily circling downtown Union. I assume that this is the nesting pair from Seven Tree Pond and the behavior had something to do with mating. After all it is certainly time for eagles to be laying eggs and soon enough there will be young eagles in that nest to show families on perch fishing trips.
A less exciting change has been replacing the Toyota Sequoia with a new 4 Runner. Not as big a vehicle, no more picking up an entire family for a trip but better fuel efficiency the rest of the year. We will see how it handles towing the Lund Alaskan soon enough. My work at the Maine Legislature for the Maine Professional Guides Association is winding down and will be finished before long. Just in time for the water to warm some and get the fishing going!