The boat sold last week. Sort of sad to see it go but pleased that it will be used and taken care of!
I have decided to sell my 20 foot Strip Built Grand Lake Canoe. I have not really used it for the last five or so years and it is too nice of a boat to let simply hang in the rafters never being used. I have many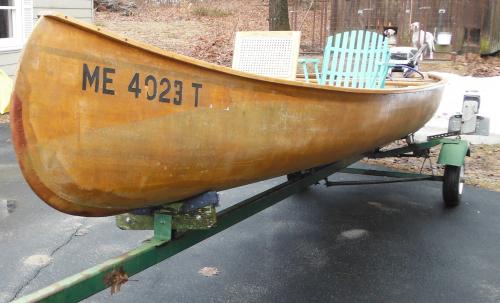 great memories of days in it fishing the smaller ponds in the area with clients.
It is a beautiful boat well maintained with 1984 9.9 hp Evinrude outboard, trailer, seats and cover. I simply have not used it for the last several years and it is a shame to leave it hang in the garage. Outboard not been used since last tune up 3 springs ago. Boat weighs roughly 90 pounds and can be carried.
Needs some fiberglass redone on the stern before being used full time.
Built by Albert Simmons of Friendship as his personal canoe that I purchased from him around 2001. Asking $2500 for boat motor and trailer.