As I mentioned earlier this year this is quite an anniversary for this small business. I have enjoyed meeting and spending time outdoors with thousands of clients. The celebration plans are coming along and part of that includes hats and soon water bottles to mark the anniversary.
This week we have 30th Anniversary Embroidered Hats in the online store. This natural canvas hat features the colorful Maine Outdoors logo and 30th Anniversary embroidered on the front, Creating Outdoor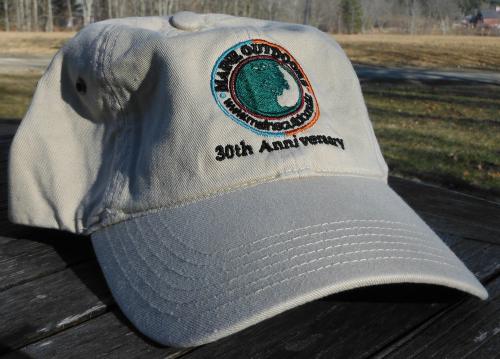 Memories on the back. The low-profile, adjustable-size hat is well-ventilated and is made of breathable, natural canvas to keep you cool on a hot summer afternoon. I especially appreciate the black color of the underside of the brim that helps to reduce glare especially on the water. As a gift to our customers shipping and sales tax are included in the price of the hat.
So help us celebrate and get yourself a great hat today! There are a variety of other items in the Maine Outdoors online store. Stop by and take a look.